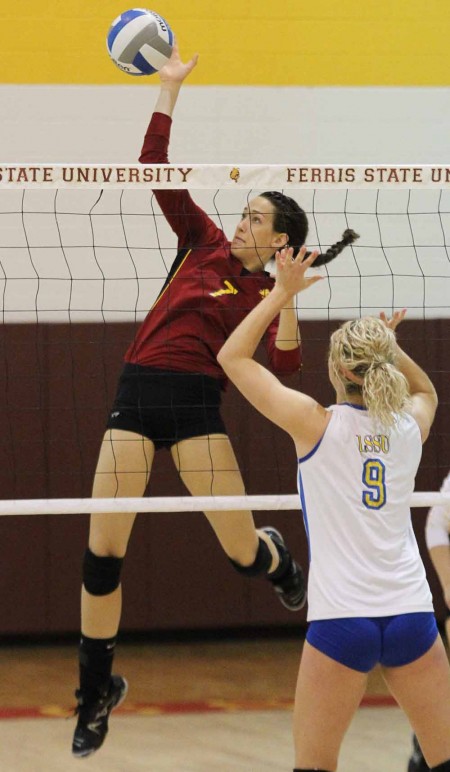 "Revenge is sweet" was in the back of senior outside hitter Ashley Huntey's mind as the Bulldogs defeated their biggest rival on Sept. 14 at the Ewigleben Sports Arena.
It wasn't until after the game that the team captain decided defeating Grand Valley State University 3-0 was actually a "big deal."
In all four years of Huntey's and senior libero Lisa Tobiczyk's careers as Bulldogs, they had never defeated the GVSU Lakers. In fact, it was the first time anyone on the team beat Grand Valley. In previous years, the anticipation surrounding the GVSU game led to losses for the Bulldogs, according to Huntey.
"I feel as if we, as previous teams, had almost made the rivalry such a big deal that we had a mental road block in previous years," Huntey said. "I think the team this year was very relaxed and confident that we didn't make it as big of a deal and just went out with the intent that we could beat them."
FSU received a balanced effort against GVSU. Three hitters reached double digit kill, and junior setter Samantha Fordyce recorded 37 assists.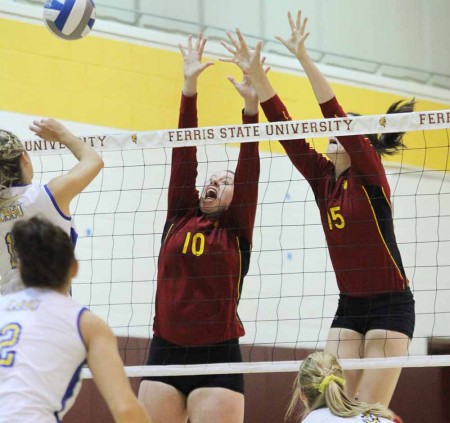 Defensively, three Bulldog players reached double digits in digs and combined for seven total blocks in the match.
Leading the team offensively was junior outside hitter Aly Brecht with 13 kills. Huntey added 11 kills for the team along with a team-best 14 digs. Freshman middle hitter Courtney Rehm helped the Bulldogs with 10 kills and a solo block.
"It is a huge win for us as a team," Huntey said. "It gave us a boost of confidence as a whole, as well as made us realize, 'Hey we are pretty good… let's do this all season!'"
It was the first time in nearly six years that the Bulldogs defeated Grand Valley State University. The last time FSU defeated the Lakers was November of 2005.
The next time the Bulldogs face Grand Valley will be on the Lakers' home court Oct. 2.
After the win, the Bulldogs were set to face Lake Superior State University Sept. 16 and Northwood University Sept. 18 as the team continued their home stint.
The visitors both suffered 3-0 loss at the hands of the host Bulldogs as FSU increased their current win streak to three and their home record to 7-0.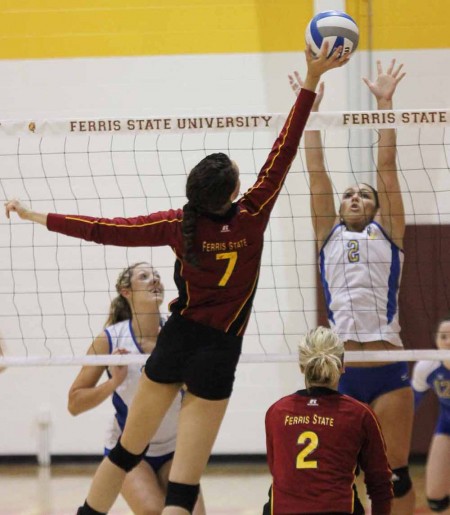 The Bulldogs are now 8-1 overall and 4-1 in the Great Lakers Intercollegiate Athletic Conference North Division.
Currently, the team is in second place in the GLIAC North Division standings. They are set to face three GLIAC South Division teams Sept. 23-25, including undefeated Hillsdale College.
First, the Bulldogs will play Findlay, Sept. 23 at 12 p.m. The next day, Sept. 24, FSU takes on Hillsdale at 2 p.m. Finally, the Bulldogs will face Wayne State University at 2 p.m. All matches will take place at the Ewigleben Sports Arena.