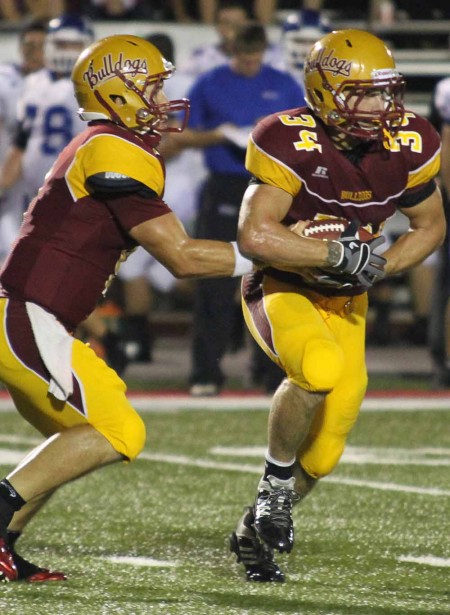 For the second week in a row, the Ferris State University football team played a complete game, and for the second week in a row, the Bulldogs produced a dominating victory.
This week's victim was Tiffin University. On Saturday, FSU defeated the Dragons 48-13 at Frost-Kalnow Stadium in Tiffin, Ohio, for the GLIAC road win.
In the first quarter, TU jumped out to an early lead after quarterback James Capello completed an 11-yard touchdown pass to wide receiver Brendton Williams to finish an 86-yard scoring drive by the Dragons.

However, from that point on, it was all Bulldogs.
"We definitely still felt in control of the game," said junior defensive end and captain Jordan Morgan. "We didn't panic after the touchdown. We knew we just had to settle down, play our game and put pressure on them [Tiffin]."
FSU drove 59 yards in 13 plays to score on a 37-yard field goal off the foot of freshman kicker Victor Bodrie. The field goal cut the Dragons' lead to 7-3 with 3:11 left to play in the first quarter.
"Having him [Bodrie] be able to put the ball through the uprights helps us not leave any points on the field," said Morgan.
After holding the Dragons on three plays, junior defensive end Cody Groulx blocked a TU punt and recovered it in the end zone to give the Bulldogs a 10-7 edge at the end of the first quarter.
By halftime, FSU had increased its lead to 31-7. Redshirt freshman running back Jamaal Jackson recorded his first collegiate touchdown on an 18-yard touchdown pass from senior quarterback Tom Schneider.
"It felt good to get the opportunity to play in general and to score was even better," said Jackson. "A whole bunch of emotions were running through me. It was just really exciting."
In addition, junior running back Dwayne Williams caught a 50-yard scoring pass from Schneider, and junior running back Skyler Stoker contributed a 20-yard touchdown run.
Stoker ran for a game-high 98 yards on 12 carries.
In the third quarter, the Bulldogs added two more touchdowns. Senior receiver Mike Ryan snagged an 18-yard pass from Schneider for the first, and Jackson ran in from five yards out for the second.
Schneider threw for 175 yards and three touchdowns on 14-of-19 passing for FSU. Williams caught four balls for 59 yards, and Ryan added three grabs for 37 yards.
With 2:16 left in the game, Bodrie wrapped up FSU's scoring by kicking a 23-yard field goal.
For the Dragons, Williams caught a 45-yard scoring pass from Capello with 1:26 left to play, making the final score 48-13.
In all, the Bulldogs tallied 446 total yards of offense compared to only 207 total yards of offense for TU.
The FSU defense limited the Dragons to just 32 rushing yards on 21 attempts. Led by junior linebacker Tayo Moss' seven tackles, the Bulldogs forced two interceptions and had two quarterback sacks. Junior linebacker Mike Elias and Alex Brajak added six tackles each.
With the win, FSU improved to 4-0 all-time versus TU. The Bulldogs are now 3-1 overall and 2-1 in GLIAC play. The Dragons dropped to 0-4 overall and 0-3 in league action.
FSU will return home next Saturday (Oct. 1) to host Lake Erie College. The Storm is 0-3 in GLIAC action and 1-3 overall.
"Their record might not show it, but they [Lake Erie] have some good athletes," Morgan said. "They have been giving teams a run for their money."
Kickoff for the "Hall of Fame Game" is scheduled for 7 p.m. As part of the "Paint Big Rapids Pink" initiative, a world record attempt will take place before the game as FSU will try to loft 2,500 pink discs thru the air at one time in support of breast health awareness month.