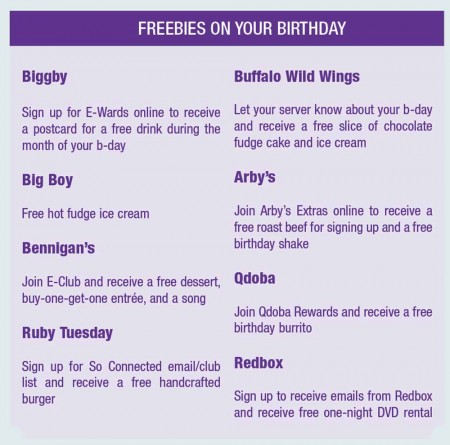 Celebrating a birthday while in Big Rapids should be a special time filled with friends, fun activities, and lots of freebies.
Weather permitting, get a group of friends together and go tubing down the Muskegon River or go disc golfing. You can also check out The Max Miniature Golf located on 3rd Avenue. If your skills are more advanced, rent a cart and go golfing at Katke Golf Course.
Pack a picnic with birthday cupcakes and take a group of close friends to the public access point at Clear Lake; enjoy a relaxing day on the water. Stop at Dairy Queen on the way back into town to cool down and refresh yourself – there's no such thing as too many sweets on your day of birth.
Walk around downtown Big Rapids with a group of friends and buy some cool gifts for yourself. Downtown offers jewelry, clothing and shoes, candles and gifts, ice cream and candy, a wide variety of restaurants, a bakery, an antique store, and thrift stores.
"Although small by most shopping standards, Big Rapids downtown offers a fine array of shops with the latest trends and styles available," said President of the Downtown Business Association John Miedema. "Many offer discounts and/or free gifts to customers who register their birthdays."
For the colder month birthdays, there are lots of fun indoor activities to do as well. Try out rock climbing at the Student Recreation Center on campus. Big Rapids Roller Rink offers "Cheap Skate" on Wednesdays from 3 to 6 p.m. and Fridays from 3 to 5:30 p.m. The cost is only $2 plus skate rental.
Another relatively inexpensive fun activity is to visit Carmike Big Rapids Cinema, which is within walking distance of campus.
Take advantage of your day of birth and eat at restaurants that offer freebies. Check out the list on this page for great deals and start signing up as soon as possible to get the rewards!
If you are 18 or older, check out Cleopatra's Hookah Lounge on Northland Drive. If you are of legal drinking age, find a designated driver and go bar hopping to all the bars in Big Rapids. This includes the new pub in the basement of Pizza King, Star Shooters, The Gate, The Sawmill Saloon, Szots Bar and Grill, Schuberg's, Odyssey Nightclub, and Scoreboard. Ask about free drinks on your special day at each location.
Don't feel like you have to leave Big Rapids to celebrate your birthday. There is plenty to do in town without having to spend money on gas to go to neighboring locations.