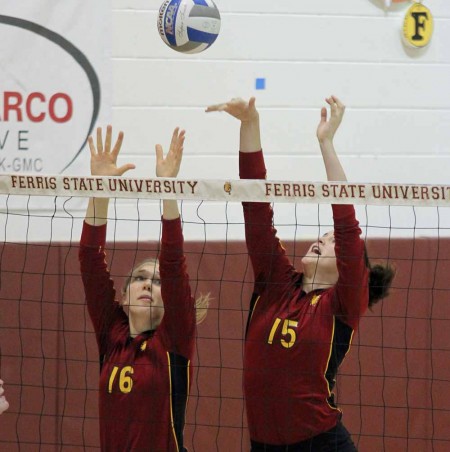 When fans watch freshman Courtney Rehm play, not many would assume the Ferris State University middle hitter recently began playing volleyball.
As it turns out, Rehm did not get involved in the game of volleyball until her sophomore year at Portage Central High School.
Before she began playing volleyball, Rehm danced. Rehm has been dancing since she was five years old. After dancing for so long, Rehm felt a need to explore other opportunities, and that's how she fell into the sport of volleyball.
When Rehm moved to Kalamazoo from Jamestown, N.C., she found there were few places she could dance. Due to her height, she decided to try out volleyball. Since then, she has been in love with the sport.
"It is a lot more intense than dancing, which I think made me like it even more," Rehm said.
During her sophomore year, Rehm injured her ankle near the end of the season, which sidelined her for some time. During her junior year, Rehm lost her starting position.
"I really wanted to work hard and get better at the sport," Rehm said.
Entering her senior year of high school, Rehm decided to join a travel volleyball team. Rehm is thankful for her travel team coach Jack Magelssen. According to Rehm, he taught her most of what she knows and helped form the player she is today.
During her career at PCHS, Rehm earned the Most Improved Player Award. In the 2009-10 season, the team won both district and regional championships before finishing runner-up in the Class A state tournament.
Rehm said it was not until she joined a travel volleyball team that she decided to completely commit herself to getting better at the game of volleyball.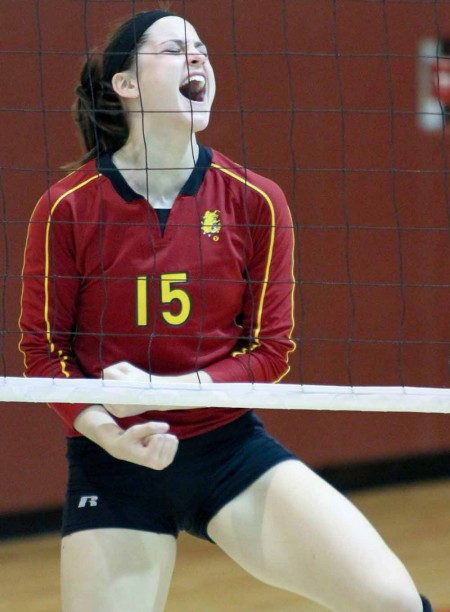 Now, Rehm is the starting middle hitter for the Bulldogs who are currently ranked 23rd in the nation. According to senior captain Ashley Huntey, Rehm has already brought a lot to the Bulldogs' volleyball squad.
"Her presence on the court does not go unnoticed. She has great enthusiasm when she makes a play," Huntey said. "She is a great student of the game; I'm excited to see where she can continue to grow in this season."
Rehm hopes in the future she will be using her nursing major to positively affect many people's lives. Her stepmother is a nurse at a children's cancer clinic. Rehm decided to job shadow her stepmother, and as a result, she believes her life has changed for the better.
"I met so many wonderful children that were all very cheerful children for the circumstances they were given," said Rehm. "It made me realize that I should be very thankful for what I'm given, because someone out there is not as fortunate."
One of the most important things Rehm has learned is to be accepting of the person she is, regardless of other people's opinions.
"In the south, a lot of the women I was around were short," said Rehm. "Their reaction to me was equivalent to Japanese people reacting to Godzilla."
She attributes much of this opinion to overcoming the insecurity of her height. To her, it is important to just be happy with who she is as an individual.