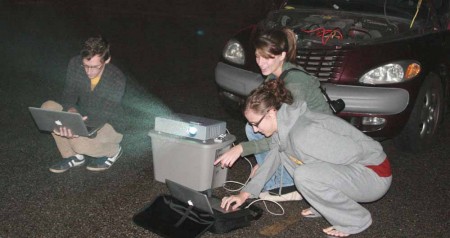 Projections are now on October 4th at the various times listed by each photo.
Everyone has seen an abandoned building, and some may see an eye sore. But those involved in Grafik Intervention, a project started by Ferris State Professor William Culpepper, see opportunity. Seniors in the graphic design program create groups, each one exploring a different vacant building in Big Rapids. Through thorough research of the building's history, interaction with the community, and artistic minds, these students bring awareness to what the building used to be by creating projections and involving the city with its future by providing viewers with note cards to spark feedback and creative solutions. For more on the process behind the projections, visit each groups' tumblr listed by the photo, or visit grafikintervention.com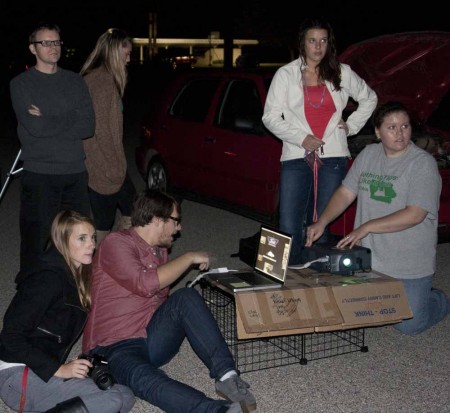 1400 Northland Drive (old Ford Dealership): 8:30pm-9:15pm:
"Our projections show the history of ford, how it came to be, and social commentary on how it's now and why the location is an abandoned space, as well as the problems that Ford has had and the auto industry in general. The idea is to present through visual means the history of the space, bring respect to it, and the potential of what it could become."
-Craig Cockerill, Senior in Graphic Design
http://interventionford.tumblr.com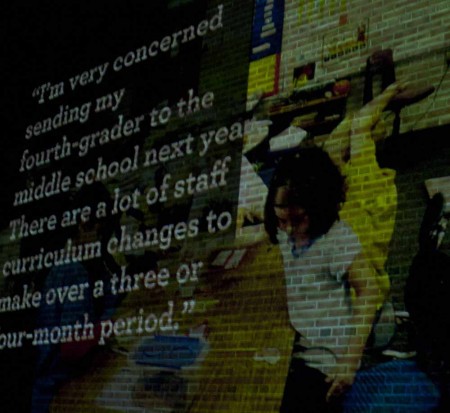 501 Bridge Street (old Hillcrest Elementary School): 8:30pm-9:15pm

"Our group is projecting pictures from past students of Hillcrest and quotes from the administration who closed down the school, as well as frustrated and concerned parents. The closing was highly emotional; by projecting these two mediums—type and imagery—we stir up the emotions of the parents and students who loved this elementary so much."
Stacey Harper, Senior in Graphic Design
http://501bridge.tum​blr​.com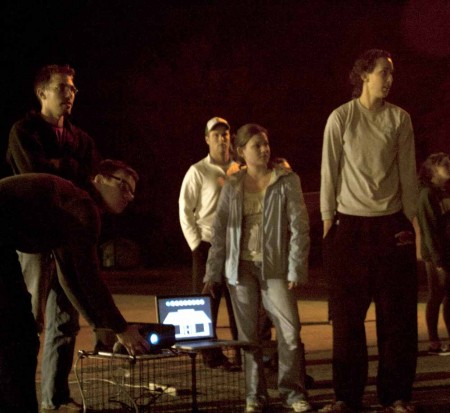 720 N State Street (next to Pennzoil): 9:30pm-10:00pm:

"We're giving Big Rapids a little history and asking them to see them in different way. In the discovery of these buildings, we are finding out more about them and interacting with the Big Rapids community, giving us a better opportunity to know the city itself. It's always important for us to know our audience and to communicate clearly; it was a good exercise."
-Anne Sutton, Senior in Graphic Design
http://720northstatestreet.tumblr.com
804 N State Street (old El Burrito): 9:30pm-10:00pm:
"The idea of Grafik Intervention is to spark urban revitalization through graphic design; To leave the classroom and engage the community in a different light. Design in general can produce a better place to live, grow and involve the community. Student designers can create awareness at the same level as professional designers."
-William Culpepper, Assistant Professor of College of Business.
http://grafikintervention804.tumblr.com/