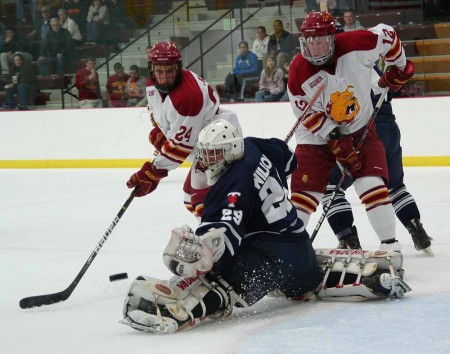 The excitement is in the air for the Ferris State University men's hockey team as they kicked off the season Sunday with an exhibition game against the University of Toronto.
FSU lived up to the pre-season hype with a commanding 5-0 blanking of the UT Varsity Blues in the first action of the hockey season.
"It felt great to get everyone out there in a game," said senior defenseman Tommy Hill. "We're definitely excited for the season."
The play of the game was dominated by the Bulldogs throughout. The first goal of the game was a power play tally by sophomore defender Scott Czarnowczan off an assist from junior right wing Matthew Kirzinger in the late stages of the first period.
Within two minutes of the first goal, freshman right wing Justin Buzzeo put in another one to make the score 2-0 going into the intermission. Senior defensemen Chad Billins was credited with the assist.
The only score of the second period was a goal by senior center Jordie Johnston during a power play advantage. Billins earned his second assist of the contest.
The Bulldogs went on to put two more on the board with third period goals from junior left wing Kyle Bonis and freshman center Dominic Panetta. Junior right wing Eric Alexander, junior center Travis Ouellette, and freshman TJ Schlueter had the assists.
For the game, FSU had 31 shots on goal compared to Toronto's 24 shots.
Starting in the net for Bulldogs was senior goaltender Taylor Nelson. He turned away all 10 shots faced on the night.
Freshman goalie C.J. Motte had six saves, and sophomore netminder Rob Granett contributed eight saves to preserve FSU's shutout.
The penalty minutes added up throughout the course of the game as the Bulldogs compiled 50 penalty minutes on 10 penalties. The Varsity Blues had 72 penalty minutes on 17 penalties for a game total of 122 minutes.
The official season opener is slated for Oct. 7. The Bulldogs will travel to St. Lawrence University (N.Y.) for a two-game series. FSU's home opener is scheduled for Oct. 14 against Rensselaer Polytechnic Institute. Entry will be free for all students with a valid FSU ID.
"The main goal is to become a championship type of team," said Hill.