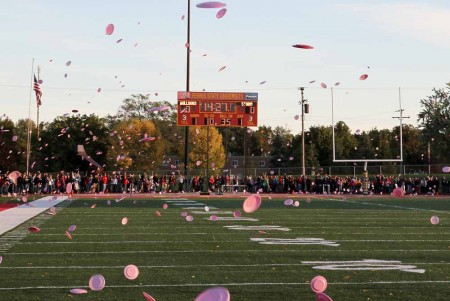 Just before the FSU Bulldogs took on Lake Erie for Saturday's game, the Big Rapids community lined Top Taggart Field's track in hopes of setting a new Guinness World Record.
With students lined up around the track as early as 5:30 p.m. and talk of the record attempt a topic throughout campus, nearly 2,800 discs were created for the event.
However, the attempt to break the current world record of 1,903 set by South Carolina's Hilton Head Inn fell short by about 400 discs. Approximately 1,501 participates threw discs into the air to support Big Rapids' second annual Paint Big Rapids Pink campaign.
FSU elementary education major Stephen Weiland, who learned of the event via Facebook, said the disc toss was a great opportunity to fund cancer research.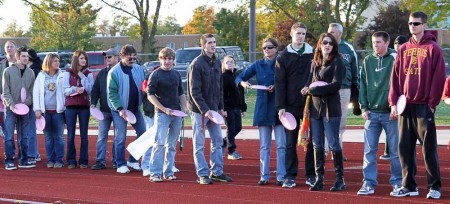 "It's important that we get the word out so research can be done and we can find a cure," said Weiland.
Duane Roberts, communications major at Ferris, said the opportunity to attempt the record was worth a chance. He said it was also a great idea to use pink discs to raise awareness for the need of cancer research.
"It was for a great cause and a way for our campus to get involved," said Roberts. "The pink discs are something we can take away from the event to commemorate cancer awareness."
Paint Big Rapids Pink is a community campaign promoting breast cancer awareness, with proceeds benefiting the Susan P. Wheatlake Women's Cancer and Wellness Center.
Approximately 2,500 discs were expected to be tossed before the game against Lake Erie.
Peter Diep, electrical engineering technology major, said though the university did not set a new Guinness World Record, it did help to spread cancer awareness throughout the Big Rapids community.
"Everyone was there to promote cancer awareness, and at the end of the day that's what matters," said Diep.
The next Paint Big Rapids Pink event "Spiking Out Cancer" will take place Oct. 5 at 6 p.m. at Big Rapids High School.