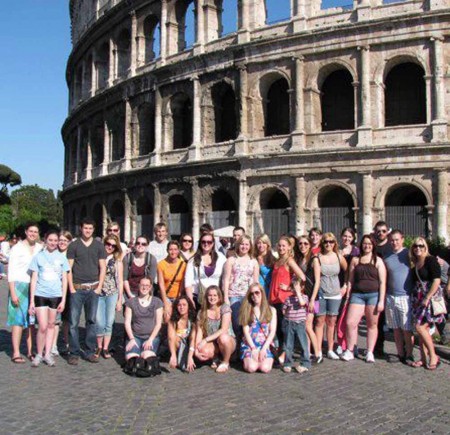 Imagine reading about 19 different countries in a textbook. Probably not so exciting. Now imagine visiting 19 different countries. This is Kirsten Thorhauer's reality, a sophomore in pre-pharmacy.
For students wishing to experience even one other country, Ferris offered its study abroad fair on Oct. 4 in the Dome Room during international education week, where students are able to learn more information about their various study abroad options. A showcase of the programs is also available in the spring.
Thorhauer and her family have always been travelers, so it was no surprise when she decided to study abroad in Italy with a group led by FSU Professor John Caserta.
"It's incredible to see a mix of the old and new; you don't realize how young our country is until you travel. Europe is the base of a lot of our knowledge and where many of us came from," said Thorhauer.
Caserta, who has been leading programs for 26 years, feels the value of studying abroad is incomparable to things learned in the classroom.
"My teaching immerses a student in another culture—its language, art, architecture, history, food and fashion. The student is learning in the moment. As they meet people from another culture, students are learning about and sharing in another's culture and life," said Caserta.
Thorhauer agreed on travel's educational value.
"You cannot immerse yourself in the culture in the classroom. Books do not do a country's religion, history, writing style, films or music justice. Seeing the Mona Lisa is not the same as seeing it in a textbook. Her eyes really do follow you," said Thorhauer.
Other benefits besides educational also exist for students who study abroad.
"There are also long lasting outcomes with studying abroad, such as being able to list a global experience on a resume," said Tara Braun, FSU study abroad manager.
With a goal of visiting 150 countries before she dies, Thorhauer feels college is a great start to developing a world view.
"Do it while you're young. Money is tight, but money will be tighter when you have a life outside of college," said Thorhauer.
"As I watch students react to the beauty of the Botticellis in the Uffizi, the ceiling of the Sistine Chapel, the magnificent beauty of Capri or the classical architecture of St. Petersburg, I realize I have changed their lives and have given them an appreciation of the world and another culture they will always remember," said Caserta.
For more information on study abroad, visit the Office of International Education.