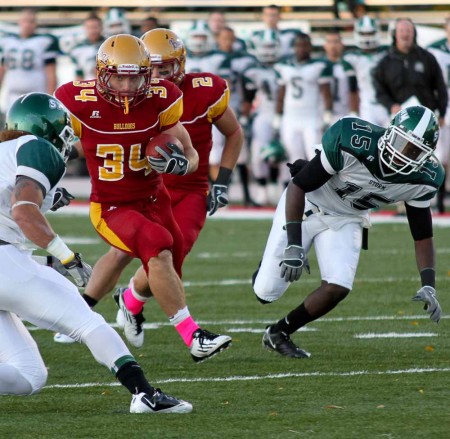 It was clear from the beginning that Ferris State University head football coach Jeff Pierce would be earning his 100th career victory under the lights at Top Taggert Field Saturday night.
The FSU football team jumped out to a big first half lead as they coasted to their third-straight win with a commanding 38-14 victory over the visiting Lake Erie Storm.
Scoring the first 24 points of the contest, the Bulldogs tallied 500 yards of total offense (260 yards rushing, 240 yards passing) as they improved to 4-1 overall and 3-1 in league action.
"It was a nice win for us," Pierce said. "We played a dominant football game."
With 11:45 to go in the first quarter, senior running back Dwayne Williams finished a six play, 34-yard scoring drive by running from six yards out to put the Bulldogs on the board. The play followed a fumble which was forced by the FSU defense on the game's opening possession.
Later in the first quarter, freshman kicker Victor Bodrie connected on a 34-yard field goal after a 57-yard, 10-play drive to give the Bulldogs a 10-0 advantage.
FSU added two more touchdowns in the opening half. For the first, senior receiver Mike Ryan caught a five-yard toss from senior quarterback Tom Schneider to finish a 71-yard drive in 10 plays with 14:31 left to play in the half. Then with 4:52 left to go, Schneider hit sophomore tight end Jace Heneveld with a 3-yard touchdown pass to cap off a 97-yard, 14-play drive.
"This team is a lot different than last year's," Ryan said. "We have a lot more energy this year. We're performing at a high level right now, and we're going to keep running with it."
Immediately following Heneveld's touchdown, LEC quarterback Sean Bedevelsky responded by connecting with receiver David Romeo for an 88-yard scoring reception to bring the halftime score to 24-7.
The Bulldogs didn't let up in the second half. Ryan caught a 57-yard strike from Schneider to give FSU a 31-7 lead with 13:22 to play in the third.
Schneider added a touchdown run of his own on the first play in the fourth quarter. After a 12-play, 75-yard drive, he plunged one yard for the final Bulldog score of the game.
"To be able to see us create the movement we were doing was really great to see," said Pierce.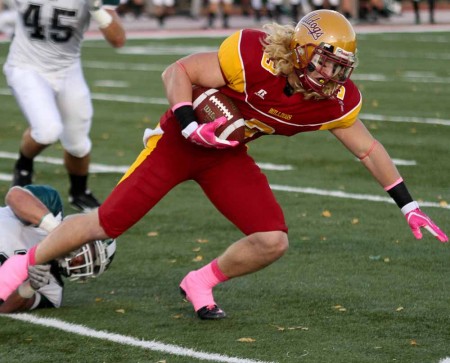 With a 1:14 left in the contest, LEC scored on a 12-yard touchdown run by running back Rod Smith to wrap up the contest's scoring.
The Storm fell to 1-4 overall and 1-3 in conference play this season.
In LEC's first-ever visit to Big Rapids, Schneider passed for 227 yards and three touchdowns. He also ran for 41 yards and a touchdown.
Ryan had five receptions for 74 yards and two touchdowns while Williams caught four passes for 20 yards. Heneveld added three catches for 18 yards.
Junior running back Skyler Stoker rushed for 132 yards on 20 carries. He also had three receptions for 23 yards.
Leading the FSU defense was junior linebacker Tayo Moss with eight tackles. He had two tackles for loss and forced a fumble.
Fellow junior linebackers Mike Elias and Alex Brajak added seven tackles each. The Bulldog defense limited the Storm to 362 total offensive yards.
FSU will travel to Donnell Stadium to face off against University of Findlay next Saturday.
The Oilers are currently 2-3 on the season and 2-2 in GLIAC play after falling to the University of Indianapolis 45-28 Saturday. The Oct. 8 game is scheduled to begin at noon.
"It's great to see our guys making the progress we're making right now," said Pierce. "When we're on, we're a pretty tough team to compete with."