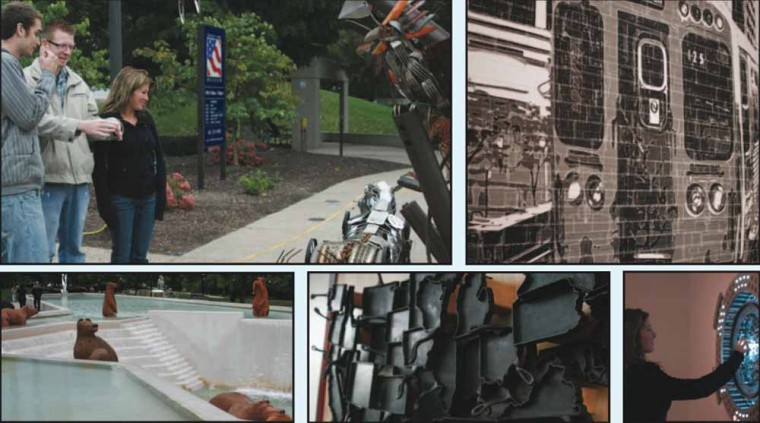 With over 1,500 artists participating in the ArtPrize event, downtown Grand Rapids has become a giant art exhibit filled with color, creativity, and character.
ArtPrize, which first began three years ago, opens its doors to works of any medium, including sculptures, paintings, and performances. The event draws in artists from all over the world, each competing for the top prize of $250,000.
"ArtPrize creates a wonderful transformation in GR; the whole city becomes a gallery, and it really serves to bring art into focus for many people who wouldn't normally see much art," said Lynette Vought, FSU teacher in the arts and humanities departments. "It's a great opportunity to see how many artists are out there working their hearts out every day and every season of the year. I encourage my students to go because in one generalized location, they can get a glimpse of what is happening in the world of art and gain exposure to many different styles and genres."
As stated on the ArtPrize website, "art is the focus of this competition, but community is the main event."
"ArtPrize has been an amazing project that is helping to revitalize Michigan and has certainly benefited the Grand Rapids region in many ways," said Carrie Weis, director of Ferris' Rankin Art Gallery. Weis commented on how ArtPrize has internationally promoted Grand Rapids as a city looking to develop and promote art. "Most importantly, it has people talking about art, something I have devoted my life to, and so, find incredibly important,"said Weis.
Ferris students have traversed to Grand Rapids to view the wide assortment of artwork, which began on Sept. 21 and will come to a close on Oct. 9.
Chelsea Israelson, junior in psychology, first attended ArtPrize by accident two years ago.
"I was downtown for a concert and beforehand we were walking around and ran into the main exhibit. It was a very different display of art that I really liked," said Israelson. "I went back the next year and took more time to look. The experience was great. I love art and have always been interested with art exhibitions and museums; this is a fun, laid back way to expose yourself to that."
Israelson has plans to attend again this year because of her great experiences in the previous two years.
"A lot of the art is larger than life and very impressive, and some of it is crazy and out of the box ideas," said Israelson. "It's not just a room filled with paintings; it's giant canvases, glass art, mixed-media sculptures, among others. Sometimes they even have the artists creating pieces in front of you."
Rachel Trombley, second year pharmacy student, took her first trip to ArtPrize this year. She was surprised by all the different types of art and her favorites included several paintings and an artist doing sand art by hand on the pavement.
"I think ArtPrize is great for the community because it brings people into the city that would otherwise not go there," said Trombley. "I have not experienced much from the west side of Michigan yet, so it was interesting to explore downtown GR!"
Israelson's favorite works from last year included those in the main display.
"Last year they had this really large pig (Steam Pig) suspended above and you could walk under it to get to the other displays," said Israelson, who said she enjoyed unconventional art.
Art has a large impact on the community and enriches the lives of those who participate in it.
"Art is important to the community because it's a way for people to express themselves," said Israelson. "Children that have art classes in school usually can achieve more in other areas of education because art teaches people something that can't be learned straight from a textbook: It teaches you how to be imaginative and creative."
Robert Barnum, FSU art professor, believes ArtPrize brings the human standard of living to another, more fulfilling level. "Filling the sidewalks, streets and buildings with creative work inspires a personal response at the highest level. Create an exciting and challenging environment that allows a personal response and you have evolved the human side of life," said Barnum.
The winner of the event is decided solely by votes from the public. Voting ends Oct. 5 and the winners will be announced on Oct. 6 from 6 to 8 p.m. at the the DeVos Performance Hall; tickets for the event are limited. The first-place winner will transfer the winning entry over to ArtPrize to be added to a public art collection. Closing day is Oct. 9.
"There is no other competition in the world of this nature, nor is there such an enormous amount of work in any one place," said Weis. "The atmosphere is positively energetic."
For more information about the event or to view the submitted pieces of artwork, visit artprize.org.