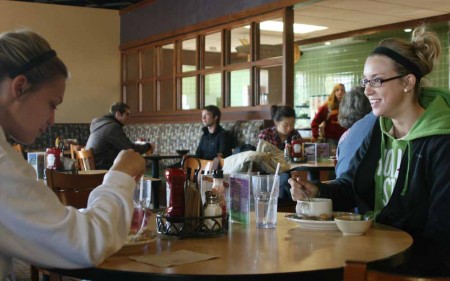 Ferris students have been talking about the overcrowding problems at the Rock Café for two years now.
Students have encountered problems such as not being able to find a seat, waiting in long lines during the dinner rush, and even problems with the "townies" and the community dining there. Most of the students who have a meal plan would agree the dining situation has been "irritating."
Many students feel it has gone too far and want something to be done. There has been discussion by students who have even heard of a possible petition circulating protesting the Rock. The petition (if started) would most likely be to reopen Center Ice. Griffin Godlewski, a sophomore in english education, feels the petition would be a good way for Dining Services to realize how strongly students feel.
"To be perfectly honest, we are just done with the Rock. We don't care how great the food is supposed to be," said Godlewski.
Bryan Marquardt, assistant director of Dining Services, said the overcrowding is not because of community members, but an increase in the number of students living on campus.
Marquardt said with Ward Hall being remodeled last year and Miller Hall being re-opened because of the high demand of students wanting to reside on campus, there are more students on South Campus.
Godlewski agrees the main problem is the increase of students; however, she feels this is making students second best by letting community members in and reserving seats for Dawg Days and high school students.
"It's been so crowded that you can't find a seat; even if you manage to get food you can't find a place to eat it," said sophomore Emily Arnold.
Senior Emily Bartek said this is her fourth year living on campus and she has seen two-campus cafeterias close. Bartek said last year it was not uncommon for the front section to be roped off because it was reserved for peak time.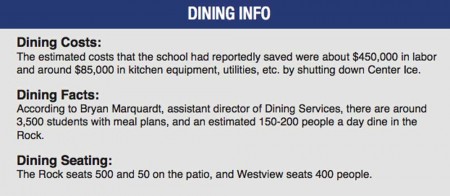 "I would not be surprised if the fire code was broken and capacity exceeded at least once," she said.
Marquardt said the volume of the Rock has gone down within the last week. According to Marquardt, the Rock is most crowded on Monday and Wednesday at noon, as well as Tuesday and Thursday at 11.
Marquardt said when groups of students from high schools come to Ferris, dining services tries to schedule them at the lowest time volume they have for lunch. The busiest day would be on a Sunday when commuters and off campus students come in for dinner or after church reaching its peak of about 250 people eating around the same time.
  "We pay so much to eat here, let's make sure we actually get food when we want it," said sophomore Meredith Twiss.
Twiss also said this could affect students with health issues such as diabetes who need to have a certain amount of food throughout the day.
"I think that the solution is only to give students another option for dining," said Arnold. "Otherwise, I'm not sure what they can do."
Marquardt said that he or Lori Helmer, director of Dining Services, would be more than happy to meet with students and hear their suggestions. Marquardt and Helmer can be contacted at ext. 3754.