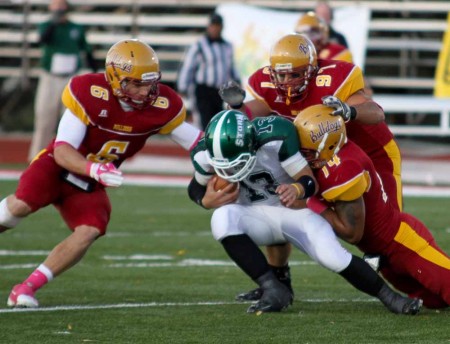 The University of Findlay barreled out to a 22-0 halftime advantage, and despite a second half rally, the Bulldogs were unable to overcome the deficit and continue their winning streak.
The Ferris State University football team fell to UF 43-35 Saturday at Donnell Stadium in Findlay, Ohio. The Oilers held off a formidable fourth quarter comeback attempt to end the Bulldogs' three-game winning streak.
With 13:32 left in the contest, UF led FSU 36-14 until the Bulldogs cut the margin to a single touchdown on a one-yard scoring run by senior quarterback Tom Schneider. FSU attempted an onside kick, but it was recovered by the Oilers to preserve the victory.
"They had a few big plays in the first half, and we gave up a few touchdowns right away," junior defensive end Jordan Morgan said. "But we made adjustments at halftime and scored every time we got the ball."
Down 22-0 after two periods of play, the Bulldogs finally got on the board in the third quarter. FSU drove 59 yards in seven plays allowing Schneider to connect with junior tight end Kevin Guirand in the end zone from 10-yards out.
UF answered right back by as running back Monterae Williams rushed for a touchdown from two-yards out to make the score 29-7 with 5:27 remaining in the third period. He finished the day with 170 rushing yards and three scores.
However, Guirand responded with his second touchdown of the day, an 18-yard catch from Schneider.
"At the half, we all got together and coaches and players both said 'We know what we can do. Play how we know we can play,'" Morgan said. "We still had a chance."
After the Oilers started off the fourth quarter with a touchdown to make the game 34-14, FSU began to rally. Following a 63 yard drive in nine plays, Schneider plunged from one-yard out with just over nine minutes remaining in the contest.
UF then chewed up six minutes on a 54-yard drive following the failed Bulldog onside kick as Williams scored the final Oiler touchdown with 3:26 left in the game to give his team a 43-21 edge.
In the final 2:28, FSU was able to make things interesting as senior receiver Mike Ryan caught an 18-yard scoring strike from Schneider to cap off a 52-yard drive in only 53 seconds. The Bulldogs recovered the ensuing onside kick to allow Schneider to run in a touchdown with only 30 seconds left.
Despite Bulldog efforts, the Oilers were able to hold on for the victory. UF tallied 470 total yards of offense (336 rushing, 110 passing) compared to FSU's 398 total yards of offense (140 rushing, 258 passing).
"Nobody likes losing," Morgan said. "We don't like this feeling."
Leading the Bulldogs' offense was Schneider with 258 passing yards and three touchdowns on 29-of-39 attempts. He was intercepted twice in the first half.
Junior linebacker Mike Elias anchored the Bulldog defense with 11 tackles. Morgan contributed 10 stops to go with 1.5 sacks, a blocked kick, a forced fumble, a fumble recovery and a recovered onside kick.
With the setback, FSU fell to 4-2 overall and 3-2 in the league. The Oilers improved to 3-3 overall and 3-2 in GLIAC play.
"We're going to take this close loss and use it as fuel," Morgan said. "We need to keep working real hard in practice. We have a team that can contend."
The Bulldogs will host Northern Michigan University in their annual homecoming game Saturday, Oct. 15. NMU is 3-3 on the season after falling to Grand Valley State University 42-7 Saturday. The Wildcats won their first three games of the season but have not won a game since. Kickoff is scheduled for 2 p.m.