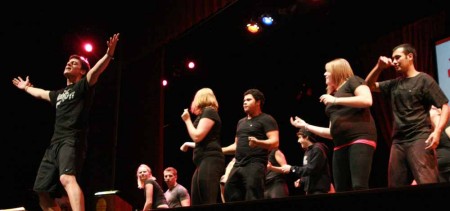 Rugrats, Catdog, Doug, Beavis and Butt-head, Hey Arnold!, Rocket Power, Pinky and the Brain, Tiny Toon Adventures, Animaniacs, Ren and Stimpy, Recess, and Spongebob Squarepants are iconic cartoons of the '90s that the majority of Ferris students grew up watching.
This year's theme chosen by the 2011 Homecoming committee is cartoons.
"I know that the entire Homecoming Events Chairs and their committees have put in a lot of hard work to make this an incredible Homecoming week for everyone," said Eli Sager, the dance/reception chair and senior in pre-medicine. "I am extremely excited to see the time and dedication come to fruition and attempt to relive a little bit of my childhood."
Steve Balkema, this year's bonfire chair and junior in the history major, said the theme of cartoons was against tough competition. "We had a vote and cartoons won out over others such as space theme and survivor theme."
"When we were debating on themes we were trying to find one that everyone could relate to and would be fun to do," said Joseph Letavis, bed sheet banner chair and junior in biochemistry. "When someone mentioned toons, it just sort of clicked."
New this year is Spirit Week. Each day of the week has a different theme.
"Dress-Up Days run alongside Homecoming events and encourage dressing as cartoon characters and dressing like the ''90s babies' a lot of us are," said Sager.
Monday was beach day, Tuesday was '90s day, Wednesday is twin day, Thursday is pajama day, Friday is favorite cartoon character day, and Saturday is pride day.
The 2011 Homecoming kicked off on Monday with a lip synch contest in Williams Auditorium. Each act had a maximum of five minutes to perform its desired song. Acts were judged based upon creativity, originality, lip synching ability, appearance (including props, costumes, and stage presence), and sportsmanship. Results were not available in time for publishing.
The following day, a kickball tournament took place at Top Taggart Field. Teams consisted of 10 to 14 players, all of whom were Ferris students or campus advisors to a registered student organization or residence hall.
Voting for the 2011 Ferris Homecoming King and Queen opened Wednesday morning at 8 a.m. in the Election Portal in Org Sync and will come to a close Oct. 13 at 11 p.m.
On Wednesday there will be a bonfire built by the brothers of the Sigma Pi Fraternity at 8 p.m. in Lot 61, located by Brophy and McNerney Residence Halls.
Thursday at 7 p.m., comedians Sheng Wang and Streeter Seidell will perform at Williams Auditorium.
"The two headliners [Wang and Seidell] are hilarious," said Chris Howell, this year's comedian chair and senior in communication. "Streeter is on the MTV show Pranked and Sheng has been all over Comedy Central. My committee met and viewed YouTube videos of all the comedians and voted on the ones they thought would be the best fit for Homecoming."
On Friday, there will be a photo scavenger hunt from 3 to 5 p.m. beginning in the quad. Teams will consist of four to five participants who will be given a scavenger hunt clue list to complete. The first team to return to the quad with the completed list will be the winner.
The Homecoming parade will begin at noon on Saturday and will run through downtown Big Rapids.
"We can all take a sigh of relief now that the events have started," said Brennon Warren, parade chair. "Our football team has been strong this year and we're fortunate to have that. Alumni return and still have Ferris pride, so why shouldn't we?"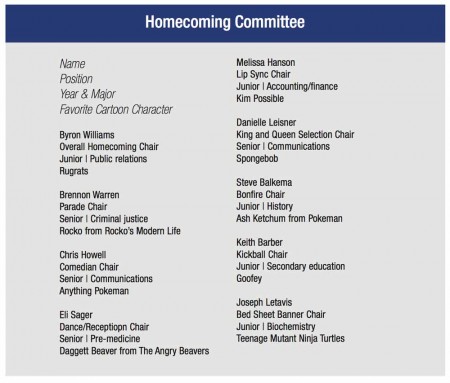 The Homecoming football game versus Northern Michigan will kick off at 2 p.m. at Top Taggart Field. Later that evening from 7 to 11 p.m. there will be a Homecoming social at The Gate located on Perry Street. Admission and refreshments are free for all.
After hundreds of hours of hard work to make Homecoming this year as fun as possible, committee members strongly encourage all students to participate in the various events.
"I encourage everybody to at least attend and check out the events so that people can get an idea for what they would want to participate in for next year," said Melissa Hanson, lip sync chair and junior in accounting/finance. "The activities really are a lot of fun and the Homecoming committee puts a lot of hard work into planning the week for students, faculty, staff, community, and alumni."
Attending events shows school spirit and can be a great change of pace from students' busy lifestyles, said Howell.
"Homecoming events offer a nice break from school work that tends to get pretty tiresome at this point in the semester," said Sager. "They give students a chance to interact with students from different RSOs and majors. It is a very exciting atmosphere to be in."
Balkema believes Homecoming is a time for bonding on campus. He said the events aim to gather a wide variety of students in different majors and with different levels of campus participation to meet one another and to have fun.
"FSU Homecoming 2011 is going to be 'toons' of fun! So cheesy…but seriously, everyone should come out and spread the school spirit!" said Keith Barber, kickball chair and
junior in secondary education.