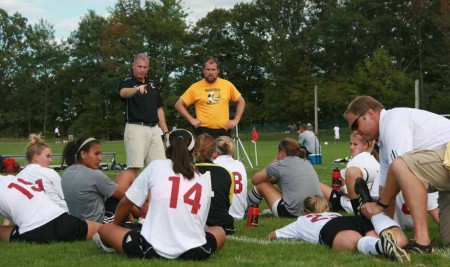 Defensive effort kept the Bulldogs alive through the weekend as sophomore goalie Rachel McCollum earned two shutouts on the road.
The Bulldogs started the weekend with a freshman scoring her first collegiate goal as redshirt midfielder Riley Wood tapped in a game-winning goal Oct. 7 against Saginaw Valley State University.
Wood scored the goal ten minutes into overtime, putting the Bulldogs ahead in a game that FSU seemed behind in, according to Bulldog head coach Matt Kellogg.
"I knew going into it that it was going to be a struggle," Kellogg said. "If we were going to win, I knew it was going to be off of pure work rate."
According to Kellogg, that's what the team did. They managed to outwork SVSU in overtime. Despite being outshot by the Cardinals 25-4 for the game, the Bulldogs managed to win. FSU only had three shots reach the goal compared to SVSU's 13 shots on goal. McCollum made 13 saves in the game for the overtime shutout.
"Good teams find ways to win those ugly games, and that's what we did," Kellogg said.
Using the momentum from the shutout victory, FSU went on to challenge Northwood University Oct. 9.
Freshman forward Sam Kay started things off early for the Bulldogs when she sent her first collegiate goal of the season flying by NU at the 22:31 mark. McCollum and FSU's defense kept the Timberwolves from scoring. The Bulldog defense redirected six Northwood shots, only allowing two to reach McCollum.
The win was the fifth for the Bulldogs in their last seven outings, three of which came on the road.
FSU outshot NU, placing seven on goal, while three missed. Northwood had two shots on goal and eight for the game.
McCollum was named GLIAC Women's Soccer "Athlete of the Week" for her two shutout efforts. FSU is currently second in the league in least goals against with nine.
"I'm very pleased with where we are right now," Kellogg said. "Anytime you hold teams to one or no goals, you always stand a chance of winning the game."
The Bulldogs maintain their goal of being in the top three of the GLIAC, sitting in second place of the North Division at 6-2-2.
"I think the team is in a very good spot and we're ready to finish the season on a high note," Kellogg said.
FSU is wrapping up their road swing with a pair of games against Michigan Tech at 4 p.m. on Oct. 14 and Northern Michigan at 12 p.m. on Oct. 16. n