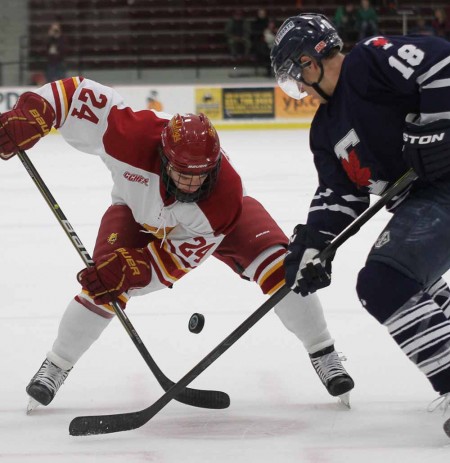 Another season of Ferris State hockey is underway, and it couldn't have started any better.
The Bulldogs used power play opportunities and strong goaltending to pull by the St. Lawrence Saints in back-to-back games last weekend, Oct. 7 and 8.
The wins didn't come easy, though. St. Lawrence scored the first goal of the first game with 6:55 remaining in the second period. After one and a half scoreless periods, this put the pressure on the Bulldogs to respond.
The Bulldogs didn't take very long to do just that. At the 4:06 mark of the second period, freshman right wing TJ Schlueter found the net to tie the game. He was assisted on the play by junior forward Eric Alexander and senior defender Chad Billins.
Schlueter also contributed to the next score, assisting as junior forward Travis Oullette scored to give the Bulldogs their first lead of the season. From that point on, there was no looking back.
Third period goals from junior Kyle Bonis and Oullette would help the Bulldogs win the game. St. Lawrence would score once more, but that wasn't enough. FSU came out on top in the first of two games with a final score of 4-2.
Saturday's game started a little more smoothly for the Bulldogs. Sophomore center Cory Kane scored the first goal for FSU just under two minutes into the game. The goal gave the Bulldogs a lead which would be retained for the remainder of the game.
Bonis and Oullette added goals in the second period, and although St. Lawrence scored, FSU sat on a 3-1 lead going into the third period.
FSU used the final period of the game to add to their lead. Bonis and senior center Jordie Johnston scored goals to give Ferris a comfortable 5-1 lead which would be the final score of the game.
The offense showed great promise in the two game series, but the goaltending was also strong. Senior goalie Taylor Nelson allowed two goals and recorded twenty three saves Friday night, eleven of which came in the third period.
Freshman goalie CJ Motte guarded the net for the Bulldogs on Saturday and had an impressive collegiate debut. He allowed just one goal and recorded sixteen saves.
The weekend's success brings FSU's record to 2-0 for the season.
The Bulldogs will try to win their home opener in a two game series against the Engineers of Rensselaer Polytechnic Institute this Friday, Oct. 14. Friday and Saturday's games will take place at 7:05 p.m. at Ewigleben Ice Arena. Friday's game will be free for all FSU students provide valid student identification. n
*Editor's note: At press time, hockey players and coaches were unreachable for comment.