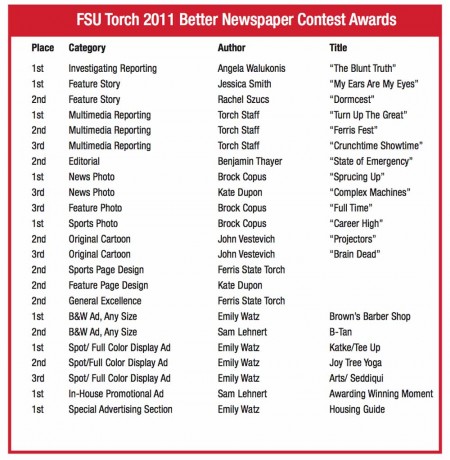 The Ferris State Torch has received its highest amount of awards by the Michigan Press Association's (MPA) 2011 Better Newspaper Contest.
The 2011 Better Newspaper Contest is a statewide competition of 102 Michigan newspapers. Committee members of the Colorado Newspaper Association critiqued 2,542 entries, which are separated in five divisions categorized by publishing schedule.
Last year, the Torch received a total of nine awards in multimedia journalism, advertising and page design.
This year, the Torch received a total of 23 awards in multiple categories including Second Place in General Excellence, First Place in Investigative Reporting, First and Second Place in Feature Story writing, a sweep in Multimedia Reporting and a First Place sweep in all advertising categories.
Torch Business Manager Laura Anger said the recognition by the MPA shows the advertising team is on the right track.
"To know you are the best, or one of the best, gives people pride in their work," said Anger.
The Torch also received the largest number of awards among the schools competing in this year's competition.
Among the division 2 newspapers competing were the Hillsdale College Collegian, Calvin College Chimes, Saginaw Valley State University Valley Vanguard, Cornerstone University Herald and University of Michigan-Flint Michigan Times.
2010-11 Editor-in-Chief Benjamin Thayer said he was surprised to hear the amount of awards the Torch had won, but felt the staff's hard work deserved recognition.
"There was a lot that went into it," said Thayer. "We worked collectively as a team to put out great papers."
Thayer said he has witnessed the newspaper get better throughout his previous years at Ferris. He said he is optimistic in the future of both the Torch and Ferris' journalism program.
"I look for the Torch to continue to stay at the front edge of the newspaper curve," said Thayer.
The 2011 MPA Better Newspaper Contest awards were announced on Sept. 30.