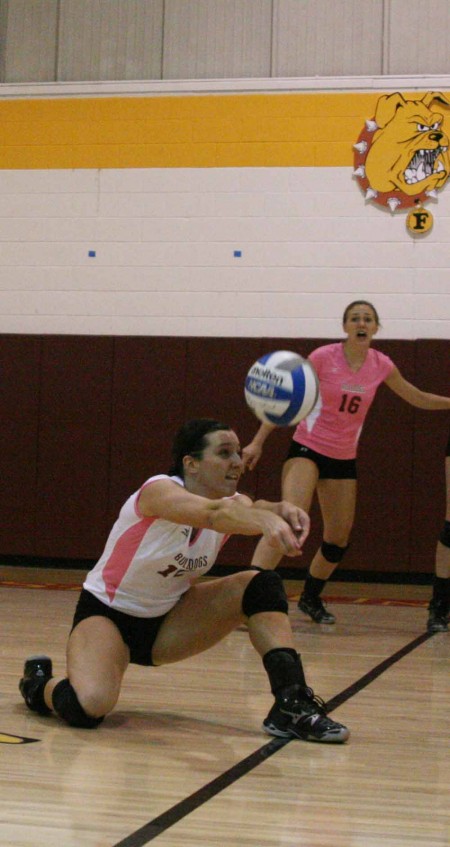 With ten consecutive 3-0 shutouts of opponents, the Ferris State University volleyball team has been dominating the competition.
This past weekend the Bulldogs easily topped Lake Erie College and Ashland University.
On Friday, FSU faced a Lake Erie squad hungry to upset the 11th ranked Bulldogs in GLIAC conference action. However, the Bulldogs came away with yet another 3-0 match victory winning each match by the score of 25-17; 25-13; 25-11.
FSU never trailed in the road victory, and junior Ally Brecht led the offense as she nine kills in the contest.
The following day was more road action against the Ashland University Eagles.
Once again, the Bulldogs answered the task and unraveled the Eagles in three sets by the scores of 26-24; 25-17; 27-25.
The Eagles were one of the closest matchups of the season, but senior Ashley Huntey stole the show with 14 kills.
The Ferris State University Bulldogs have now won 10 straight matches. For the season, the team has as record of 15-1 and 11-1 in GLIAC conference play.
The question is how much buzz is there around campus with the news of the dominating volleyball team?
"Yeah, I overheard two people in my class talking about the volleyball team, it's pretty exciting. I'm definitely going to head over to our next home game against Michigan Tech," FSU sophomore engineering major Ryan Courtis said.
The excitement is also being rumbled around the Westview diner.
"I swear, and I don't know what it is, but every time I go out to eat something comes up about the volleyball team," FSU freshman general studies major Melanie Yaramino said. "I've watched them in person a couple times and they look good. The team is easily the best team on campus."
The volleyball team keeps striving to be the best, and it can definitely be seen by the dominance on the court and the excitement through the campus seems to be rising.
The Bulldogs will travel to Illinois Oct. 14 and 15 to compete in the GLVC/GLIAC Crossover Tournament against three different schools (Lewis University, Northern Kentucky University and Missouri S&T University) before coming home where they will take on the Michigan Tech University Huskies and the Northern Michigan Wildcats in more GLIAC conference action.