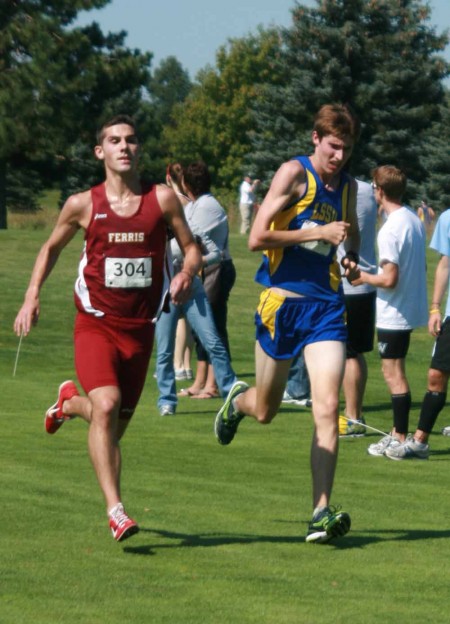 Many pharmacy students will tell you in order to be successful in their program there must be a lot of time put into studying. Many of those same students are not also on the Ferris State University cross-country team while simultaneously holding a job.
Different from many, junior Ryan Chute is now in his first year of pharmacy school while he runs for the Bulldogs. Chute also interns at a pharmacy in Big Rapids when he has time. Chute says the reason why he juggles his schedule is because he loves how competitive running can be.
"I like to run because I love to compete, I like racing and working hard to get better at it," Chute said.
Chute is not willing to give up on his dream of becoming a pharmacist or stop trying to get better at his sport.
"I've improved so much this season that I don't want to just quit," Chute said. "Looking back in 15 years, I feel like I would regret it. Instead of quitting, I can help my team out these last two years."
On average Chute spends four to five hours in the library each day. He has a sixteen-credit schedule that consists of seven classes. When he is done with class, Chute trains on his own since his schedule conflicts with team practice.
While he studies, Chute thinks about how the cross-country team has transformed since he has started running for the Bulldog program. When Chute first arrived at FSU, the Bulldogs men's team was in a slump.
"Our team has improved a ton, nationals was never a goal my freshman year," Chute said. "Now it's a realistic goal and knowing that we're this close motivates me to work harder."
Now, the Bulldogs have a chance to reach nationals with the championship clinching regional meet being hosted by the Bulldogs on their home Katke Course.
Chute started running competitively his freshman year of high school, though then he was only running track. Meanwhile, he also played soccer in high school.
During his sophomore year, Chute started running cross-country after the soccer season. According to Chute he was good at soccer, but the cross-country coach at his high school convinced him to run all year long instead of playing soccer and running.
Chute aspires to hold the top record in the men's 8k race for the Bulldog program. In the Greater Louisville classic, Oct. 1, Chute posted a time of 25:18.88 that was just 15 seconds off of the record for an 8k race at FSU. Chute plans to accomplish this goal by his senior year if everything goes as plan.
Despite a hectic schedule, Chute has no intention of changing any aspect of his life to lighten the load.
"I love running. It's a stress relief," Chute said. "I enjoy competing and the team. I enjoy getting better, so I don't want to quit running."