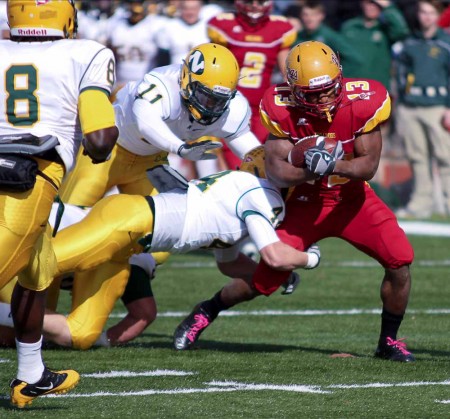 The Bulldogs took representing FSU on homecoming seriously as they defeated Northern Michigan University 35-6 Saturday at Top Taggart Field.
"Homecoming is always special," FSU head coach Jeff Peirce said. "The way I present it to the football team is there are a lot of people who come back who played football here in the past, and we're here to represent those individuals on the football field and make it happen."
The Bulldogs made it happen in front of 3,241 fans and alumni as FSU held the Wildcats to no touchdowns in their dominating victory.
"It was great to get a win for all the alumi," junior defensive end Jordan Morgan said. "They've been in our shoes. We're glad we could continue the tradition of winning."
On the Bulldogs' opening drive, senior quarterback Tom Schneider capped off a 72-yard drive with a 9-yard touchdown run. For the game, Schneider recorded 77 yards on 13 carries.
Not even a minute into the second quarter, junior running back Dwayne Williams added to FSU's lead with a one-yard touchdown plunge to give the Bulldogs a 13-0 advantage.
Wildcat kicker Rockne Belmonte cut into FSU's lead with a pair of field goals in the second quarter. The 45-yard and 25-yard field goals trimmed the Bulldogs' lead to 13-6.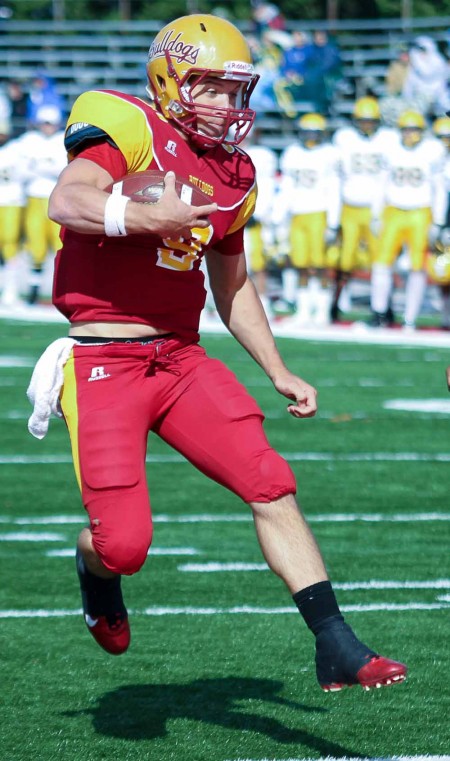 FSU responded late in the half with a field goal of its own as freshman kicker Victor Bodrie connected on a 30-yarder as time expired.
The second half was all Bulldogs as FSU's defense held the Wildcats scoreless in the final 30 minutes.
"We wanted to come out [in this game] and send a message that we're still here to play," Morgan said.
Senior receiver Mike Ryan snagged a 13-yard touchdown pass from Schneider with 3:53 to go in the third quarter as the Bulldogs drove 74 yards in seven plays to take a 23-6 edge. Ryan caught a game-high eight passes for 90 yards.
At the start of the fourth quarter, Bodrie made a 38-yard field goal to increase FSU's lead to 26-6. The field goal followed a safety late in the game when NMU snapped the ball out of the endzone from inside its own five-yard line.
Redshirt freshman quarterback Taylor Masiewicz wrapped up the Bulldog scoring with a 70-yard completion to freshman receiver Jake Lampman with 2:33 left in the contest. In relief, Masiewicz completed four-of-six passes for 110 yards.
In all, FSU compiled 554 yards of total offense (242 rushing, 312 passing). Schneider completed 22-of-30 passes for 202 yards.
On the defensive side, the Bulldogs limited the Wildcats to 222 total yards of offense (149 rushing, 73 passing). FSU had five tackles for a loss and forced a fumble.
Junior linebacker Tayo Moss recorded a game-high 12 tackles. Sophomore defensive end Cody Groulx had 10 stops while junior cornerback Antwian Windmon added nine tackle and an interception. Junior linebacker Mike Elias also had an interception for the Bulldogs.
With the victory, the FSU improved to 5-2 overall and 4-2 in league play. The Bulldogs are currently tied for first place in the GLIAC North Division standings. NMU fell to 3-4 overall and 3-3 in GLIAC action.
FSU will travel to Allendale Saturday to face off against Grand Valley State University in the Anchor-Bone Classic. The Lakers recently defeated Lake Erie College 61-31 to improve to 4-3 overall and 3-3 in conference play. Kickoff is scheduled for 7 p.m. at GVSU's Lubbers Stadium.
"We have a great team here," Morgan said. "We're all excited, and it would be great to get a win in front of their home crowd."