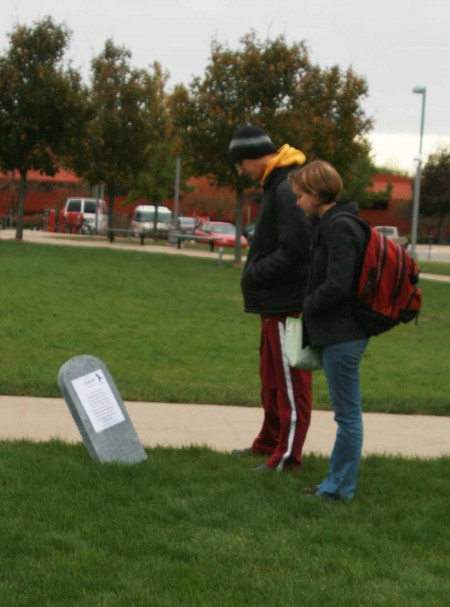 "If you leave me, I will make you drop off the face of this earth, and no one will ever find your body."
These were words said to pre-nursing student Leora Bain by her ex-husband Jeremy.
Bain's childhood marked the beginning of her life as a victim. Her parents divorced at a young age. Her mother was an alcoholic and drug user who lived a life unfit for taking care of two girls. Bain and her sister were sent into foster care, where four of her five temporary homes were abusive.
"As a young child when I got in trouble, they would put tape on my mouth, tie my hands behind my back, shut the lights off and put me in the closet," Bain said.
It wasn't until two years ago that Bain, almost 30, could sleep with the lights off.
"My feelings on the judicial system (at least when I was a kid) is that it failed miserably in protecting me and my sister," Bain said.
Bain bounced between foster homes, living with her mom and stepdad, or her dad and stepmom. Bain experienced sexual abuse by her mother's friends. Bain said her father's home was one of physical abuse, and one that trapped Bain in the vicious cycle of staying in abusive situations.
When she was 15, she began dating Jeremy. Drawn to his past hurt, Bain felt the need to "fix" him. She had his child shortly after, and was married as a teen in hopes her daughter could have a future with two loving parents. Bain would later find out that much of what Jeremy told her was a lie.
"I didn't feel like my dad loved me, so I was looking for that love from other men. I came to a point of realizing that I had no idea who this person was I was married to," Bain said.
Bain recounts when the verbal and mental abuse became physical.
"He ripped the phone out of the wall and threw it across the yard. I ran into my baby's bedroom and grabbed her in my arms. He told me he was going to leave and would take her with him and I'd never see her again. I held on to her for dear life, as he cornered me in the kitchen, began kicking me in the shin with his steel toed boots and punching me, trying to pry my baby away," Bain said.
After divorcing Jeremy, Bain would have to leave her child with Jeremy and his new wife, where Bain and her daughter witnessed the couple's fights.
"They came home drunk and he started yelling, throwing things, and screaming. My daughter looked up at me and said, 'Mommy, they are falling in love,'" Bain said. "I had to explain to my daughter that this is not how people who love each other behave."
Despite the darkness that Bain experienced and her countless stories of abuse, she has found uncontainable hope for her family. She is now happily married and has three children.
To handle conflict with her children, Bain said she takes a different approach: she prays. Bain has also found healing with some of those who hurt her most.
"My dad is not the same person. Neither is my stepmother. The values they tried to instill were not wrong. It was how they did it that was wrong. My goal as a mother is to instill these values while using new techniques," Bain said.
Bonnie Wright, associate professor of social sciences, brought the Tombstone Project to Ferris, inspired by her friend who started it at Delta College. She emphasized the importance of these true stories and visual displays of driving the seriousness of domestic abuse home.
"Often times with domestic violence it seems that people equate it with women being the only victims. Women, children, and men are all the victims," Wright said.
Bain is determined to be more than a statistic; she gives all her credit to God, believing that He used her experience to benefit others.
"I want people to understand that we are not a statistic. Our choices are what define who we are," Bain said.
If you are a victim of abuse, call the national domestic violence hotline at 1−800−799−SAFE (7233).