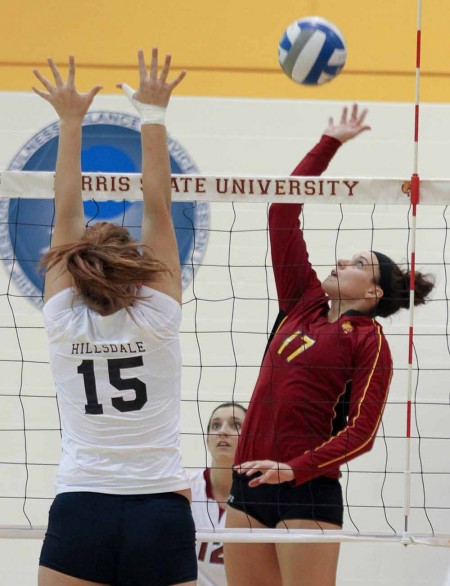 After serving their past 11 foes defeats, the Bulldogs winning streak came to an end at the 2011 Mizuno Crossover Volleyball Tournament.
FSU added a win to their 10-game winning streak as they defeated 21st-ranked Lewis University (Ill.) 3-1 on Oct. 14. Lewis took the first set, but the Bulldogs rallied back for their 11th consecutive victory.
Prior to the Lewis contest, FSU was on a 10-match winning streak in which the team swept opponents in straight sets.
FSU took the court against 13th-ranked Northern Kentucky in their second match of the tournament. The Bulldogs jumped out to a 2-1 lead over the second seeded GLVC contender NKU. As the match progressed, NKU battled their way back to tie the score at two sets apiece.
The deciding set featured 11 ties and 14 lead changes. Northern Kentucky finished the set 19-17 over the Bulldogs after Ferris owned the lead 10 times in the final set.
"As with any adversity, we will use it to re-focus our efforts and continue to grow stronger as a team," FSU head coach Tia Brandel-Wilhelm said.
Northern Kentucky snapped the Bulldogs win streak with the 3-2 victory. Although every athlete wants to win, senior co-captain Ashley Huntey believes the team will learn a lot from the loss and that the loss was good for the team as they go forward.
"I think it was a great opportunity for us to see what adjustments still needed to be made," Huntey said. "If you keep winning, you're going to think you're perfect and don't need to make as many changes. But by taking that loss we can reevaluate what we need to work."
According to freshman middle hitter Courtney Rehm, losing to Northern Kentucky was more helpful than heartbreaking. Rehm acknowledged that losing now, in a non-conference game, rather than later may have helped the Bulldogs chances as the post-season grows nearer.
"Losing to Northern Kentucky was sort of an awakening. We had been so used to taking everyone we had played in three sets," Rehm said. "It showed us that we still have some little things to work on, but once we're equipped with those then we're going to be an even greater team than we already are."
For their final match, the Bulldogs faced 35th-ranked Missouri S&T on Oct. 15. FSU compiled nine blocks and 58 digs as they defended their side of the court for a 3-1 victory.
With the win, the Bulldogs improve to 17-2 overall. The Bulldogs had a 2-1 record against their non-conference challengers in the tournament.
This year marked the annual crossover tournament's fourth year in existence. The tournament pits two Midwest conferences against each other in the Great Lakes Valley Conference and the Great Lakes Intercollegiate Athletic Conference.
The two-day tournament featured a total of 32 teams at the Great Lakes Center in Aurora, Ill. FSU was seeded first for the GLIAC in the tournament.
The GLVC won this year's crossover tournament 29-19. Their victory ties the two teams tournament record up 2-2.
FSU will next face Michigan Tech on Oct. 22 and Northern Michigan on Oct. 23 for their last regular-season home games. The matches will take place at the Ewigleben Sports Arena, and both are scheduled to
start at 2 p.m.