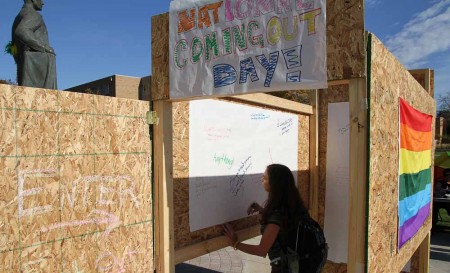 Revealing a hidden part of an identity can be one of the hardest obstacles in the lives of members of the lesbian/gay/bisexual/transgender community.
Hannah Davis, an FSU student, has experienced bullying firsthand for being a lesbian.
When Davis was a senior in high school, two boys began to sing in class "I Kissed a Girl" by Katy Perry.
"Everyone knew I was gay at this time," Davis said. "It was funny at first, but they kept going farther and farther with it and saying more things."
Another incidence of bullying took place at Shooters in Big Rapids.
"This guy was telling me to apologize to his girlfriend for something that I didn't do, and when I told him I wasn't going to, he called me a dyke and threatened to kick my ass," Davis said.
On Oct. 10, the day before National Coming Out Day, Dr. Kristen A. Renn was brought to campus by the Faculty Center for Teaching and Learning and other groups to deliver a presentation titled Intersections of Teaching, Learning, and Identity: Improving Classroom Climate for LGBT Students.
"Dr. Renn was brought to Ferris to help create a learning environment to support the diverse groups of students who come to campus. She particularly focused on LGBT students," said Dr. Tom Stanislav, director of the FCTL.
The need for this can be found in the University's Stategic Goals: "Create environments for student learning that are inclusive of and sensitive to a diverse student population."
Staislav said the university is aware of its LGBT students and wants to create a learning environment that is sensitive of them.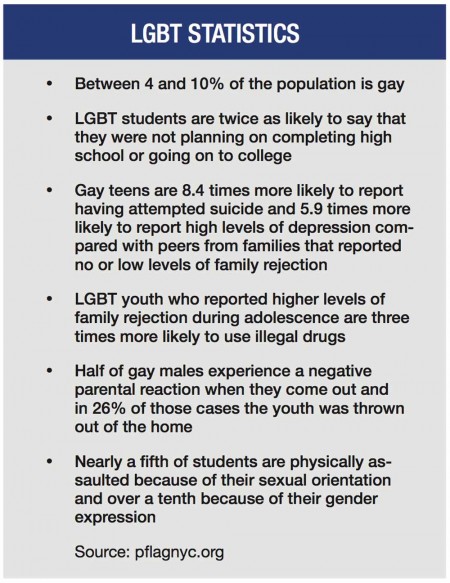 "We want to be a university where all students, faculty and staff feel welcomed and safe and a place where they can call home," Stanislav said. "It's as much their institution as it is anybody else's."
The realm of difficulties for LGBT students extends outside the world of school; Davis has also experienced obstacles in the workplace.
"I don't think that it's because I'm gay, it's because of the fact that I'm a girl who looks like a boy," Davis said. "I've had people ask me if they can have another server because they are uncomfortable having me as a server."
Families of GLBTs handle the news of their loved one's "coming out" differently. In Davis' case, her entire family and circle of friends knows she is a lesbian. Her immediate family was very accepting.
"My biological mother took it very well and told me she has known since I was little. She's very proud of me for coming out and being myself," Davis said.
Some LGBT's immediately families don't take the news as well. Mike Karel, senior in accounting and finance, has yet to tell his family that he is gay because of how his parents took the news when they found out that his older sister is a lesbian.
"A big part of me wants to come out to my parents because it sucks hiding who you are from people who raised you," he said. "But my sister is a lesbian, and there have been ridiculous ramifications from that."
Karel's parents have cut off nearly all communication with their daughter..
"My mom has gone to 'turn your kid straight' conferences and I've found literature in her room about how to turn your kid straight. Part of it is religion for my mom, and my dad is very old school and doesn't show emotion," he said. "When I see him, it's always a handshake. He was getting heart surgery and I went to go give him a hug and he stopped me and just shook my hand."
Karel wants to tell his parents, but knows they will cut him off just like they did to his older sister. His sister has been with the same woman for ten years, and their mother still believes it's just a phase, that she can change, and is still praying for her daughter.
"I'm of the mindset that it's OK if you don't like homosexuality, but hate the sin, not the sinner," he said. "Love your child; she was your daughter five minutes before she told you, and she's your daughter 20 years after she told you."
Karel is scared once his parents know, they won't want to socialize with him, help him, or love him anymore.
"I could lose my parents essentially. I feel like if –rather when– I tell them it's going to be like, 'All right, see you at your funeral.'"
Once he has more independence and doesn't rely on his parents as much, Karel plans on telling them about his sexual orientation. He believes they may already know, but just don't want to see what's in front of them. Both of his sisters know he's gay, but his brother is unaware.
"I think he's suspicious," Karel said. "He asked me one day if I was gay; it caught me off guard and I wasn't ready to tell him, so I said no. He responded, 'Good, we don't need another one in the family.'"
Karel offers advice to those in similar situations: although you don't want to cut a family member out of your life, if it's separating you from happiness, then it shouldn't even be a question.
"Don't let it hide who you are. I'm definitely happier now that I'm out. Once you come to accept yourself, the hurt will stop a little more because you won't let it affect you as much," Karel said.
Davis believes it is extremely important for all people to be treated equally and with respect.
"They are still the person you knew and respected until you found out their sexuality. No one would choose a life of disrespect, ridicule and hatred."