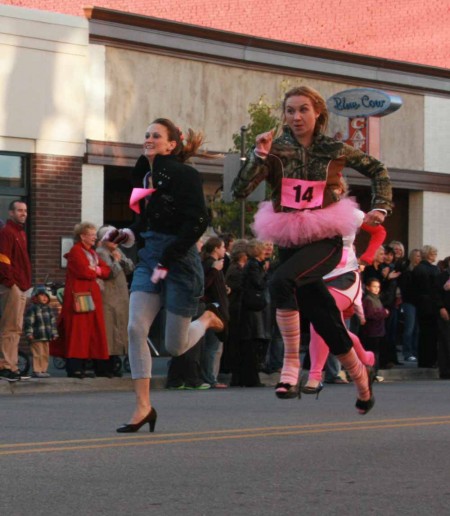 The Big Rapids community slipped into their stilettos and lined up along Michigan Avenue for the second annual Stiletto Sprint.
Beginning Oct.17 at 6:00 p.m., the race began near Chemical Bank with racers sprinting toward Maple Street.
Unlike last year's Stiletto Sprint, this year's event involved three separate races including a men's race, a women's race and an "anything goes" race. Participants were required to wear a minimum 3-inch stiletto heel to qualify for the men and women's race.
The event began with the "anything goes" race, where women from all ages were allowed to participate. The "anything goes" race did not require participates to wear a minimum heel height allowing 11-year old Brook Jacobs to win the race. Jacobs sprinted down Michigan Avenue easily claiming first place. Jacobs was awarded a pink sash and bracelet.
The "anything goes" race was shortly followed by the men's race. Big Rapids resident Darin Cebulla said he decided to take off work to be a part of the event. Dressed in a blonde wig, tutu skirt and pink leotard wearing the number 50, Cebulla won the men's race beating out three other racers.
"It always feels good to win, especially when the money goes towards a great cause," Cebulla said.
Winning a trophy from Greens Sporting Goods and $100 from Steve Miller Edward Jones Financial, Cebulla donated his entire cash winnings back to the Susan P. Wheatlake Cancer and Wellness Center fund.
Followed by the men's race, the women's race included over two-dozen women from FSU organizations such as You Beautiful Black Women (YBBW) and local business owners racing for the title of this year's Stiletto Sprint champion.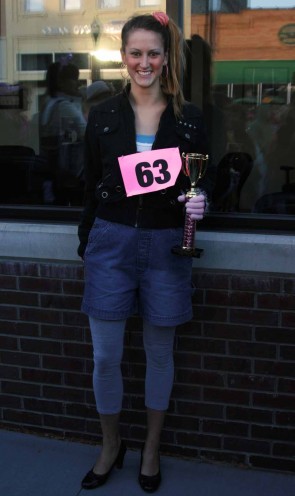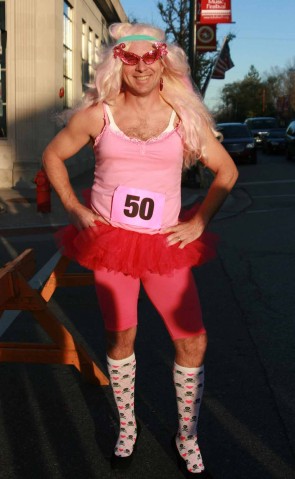 Ferris State University junior and Women in Technology member Lindsey Orkisz won the women's race. Orkisz was also awarded a trophy and $100.
Orkisz said she got involved in the competition because of the support the Stiletto Sprint received from her organization.
"I was pretty excited. I'm very big into competition and it helps to know it was for a good cause," Orkisz said.
The event concluded with men's race participate Frank Dye receiving the best-dressed award. Dye wore a pink wig, pink glasses, ruffled skirt and stilettos.
The Stiletto Sprint was part of the Susan P. Wheatlake Cancer and Wellness Center's Paint Big Rapids Pink project.
The next Paint Big Rapids Pink event will be the Wheatlake Center Open House from 2:00 p.m. to 5:00 p.m. at 705 Oak Street.