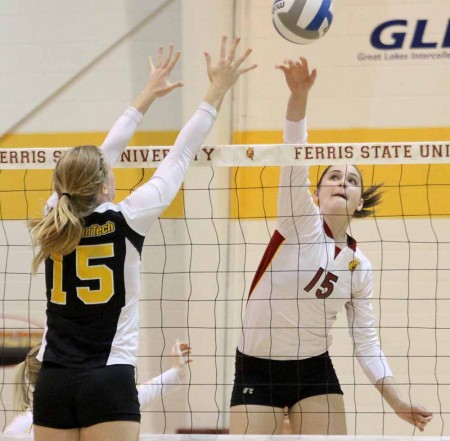 The nationally-13th ranked FSU women's volleyball team swept Michigan Tech University 3-0 Saturday before avenging an earlier loss this season to Northern Michigan University with a 3-1 victory Sunday to remain unbeaten at home.
Against MTU, 10 Bulldogs registered kills to contribute to a team total of 40 kills on the day. Senior outside hitter Ashley Huntey had a match-high 12 kills.
On Sunday, FSU won its regular-season home finale to improve to 13-0 in home matches. NMU defeated the Bulldogs 3-2 in early September.
FSU claimed the first two games in a commanding fashion by scores of 25-19 and 25-18 before the Wildcats awoke to take the third set 25-21. The Bulldogs slammed the door in the fourth set with a 25-21 win.
Seniors Huntey and Lisa Tobiczyk led FSU as Huntey recorded a match-high 13 kills and Tobiczyk had a team-high 21 digs.
The duo was honored prior to their last regular-season home contest.
Junior setter Samantha Fordyce contributed 37 assists and 15 digs.
With the victories, the Bulldogs improved to 19-2 overall and 13-1 in conference action. FSU will play its last five regular-season matches on the road starting with Ohio Dominican University Oct. 29 at 5 p.m. in Columbus, Ohio.