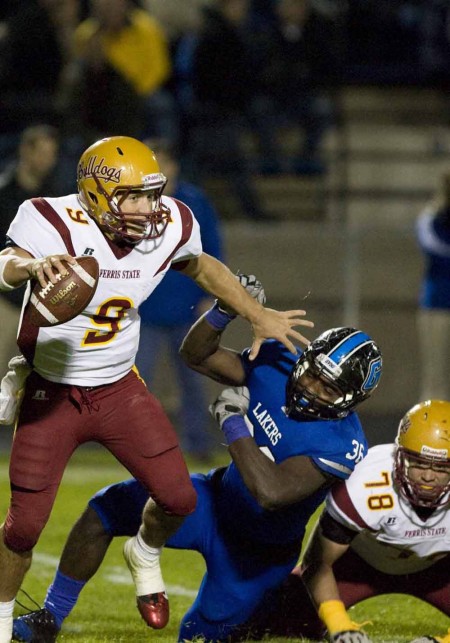 Grand Valley State University jumped out to a quick lead which it never relinquished as the Lakers defeated Ferris State University 57-10 Saturday night in Allendale.
The highly anticipated Anchor-Bone Classic game was played at GVSU's Lubbers Stadium before a crowd of 9,197 fans.
Freshman kicker Victor Bodrie said he had never played in a setting that even remotely compared to Saturday's game.
"People were screaming your name and trying to get you to mess up," he said. "It's an environment that you have to work through as a team. You have to focus on the game, lock in and lock down."
The Lakers scored on their opening possession of the contest as they racked up 21 straight points in the first quarter.
The Bulldogs finally scored with 1:37 left in the first half when senior receiver Mike Ryan found senior quarterback Tom Schneider on a nine-yard throwback pass. GVSU held a 38-7 halftime advantage.
Bodrie added FSU's final three points early in the fourth quarter when he connected on a 30-yard field goal. He had missed a field goal attempt in the first half.
"After you miss one, you have to forget it," Bodrie said. "You have to have confidence in your snapper, confidence in your holder and confidence in yourself to go out there and do your job."
Overall, the Lakers tallied 631 total yards of offense (232 rushing yards, 339 passing yards). FSU totaled 369 total yards (171 rushing yards, 198 passing yards).
Schneider completed 15-of-29 passes for 156 yards. He also ran a team-high 72 yards on 18 carries. Ryan grabbed four passes for 35 yards to pace the Bulldog receivers, and sophomore Jonathan Flynn led the FSU defense with eight tackles.
GVSU sophomore quarterback Keith Parling was 21-of-28 for 336 yards and six touchdowns. The Laker defense finished with four sacks and had four tackles for a loss. GVSU's victory marked the 11th consecutive time the Lakers have defeated FSU.
With the loss, the Bulldogs fell to 5-3 overall and 4-3 in GLIAC play. GVSU improved to 5-3 overall and 4-3 in league action. Both teams are tied for second place in the GLIAC North division standings and trail Indianapolis University and Saginaw Valley State University by one game.
"We need to win the rest of our games and hope some other teams lose," junior defensive end Jordan Morgan said. "It's never a fun position to be in, but we put ourselves here."
The Bulldogs will return to action next Saturday as they host Indianapolis (6-2, 5-2) in a 2 p.m. contest at Top
Taggart Field. n