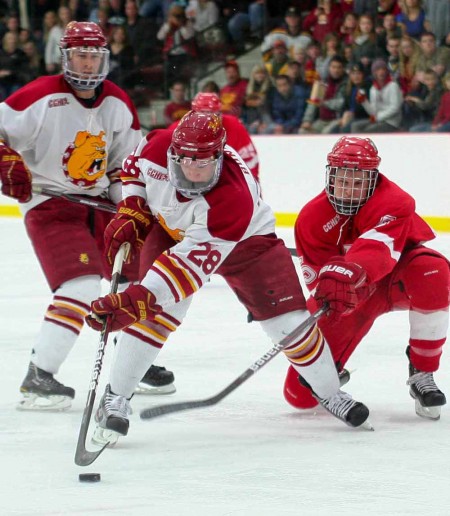 If it wasn't for his father, junior left wing Kyle Bonis may not have continued playing hockey.
When Bonis was three years old, his father took him to an ice rink to learn to skate. Bonis initially found displeasure in ice skating because he didn't have immediate success.
Bonis, like many who ice skate for the first time, immediately fell on his butt.
"I remember I almost didn't keep playing hockey because I walked on the ice and fell right away. And then I said, 'Dad, I don't want to play hockey. The ice is too slippery,'" Bonis said while laughing.
But his father didn't let him give up and encouraged his son to keep trying. As he improved, Bonis fell in love with skating and eventually the game of hockey. After he helped build a backyard rink at his farm home in Lindsay, Ontario, Bonis' passion for the sport really began to blossom.
"It was something I was always so passionate about. It was something my dad, brother and I shared a passion for since we all played," Bonis said. "That motivated me to keep going and helped me realize I had some potential."
Everyday Bonis wanted to play hockey, and every day he wanted to get better at the sport.
"I think I developed a lot of my skills playing against my brother in the rink," Bonis said. He's a lot bigger than I am, so when we were playing in the backyard rink, I had to learn to play against bigger guys and use my skills a little bit."
This past summer, Bonis returned home to his family's farm. At the farm, he feels he can get a different perspective, clear his head and get away from the game of hockey for a little bit.
Being at home helps Bonis reignite his passion for the sport and makes him feel eager to return to Big Rapids.
"It makes me hungry when I come back," he said. "By the end of the summer, I'm missing the game. When I come back here, I'm just ready to go and get the games started."
His hunger for hockey is evident, as he has already tallied six points in just six games this season. Five of those points come from goals alone. Bonis has nearly exceeded his seven goals scored last season. His help offensively for the Bulldogs has not gone unnoticed.
"He is an extremely hard worker, and he's always in the right spot," Bulldog senior defenseman Tommy Hill said. "He obviously worked on his shot this summer because he has had some really nice goals from just shooting instead of rebound goals."
Bonis attributes much of his recent success to his practice over the summer at honing a better shot.
"My dad always got on me about it and this year I decided to finally do it. I shot pucks every day. I shot probably 150-200 pucks a day," Bonis said. "Being able to shoot every day and relax gave me a little more confidence."
Bonis is motivated to keep working hard at his game by both how the Bulldogs are playing this season and by his dream of playing professional hockey in the NHL.
"I would love to make a living and support a family playing hockey because I love the game so much," Bonis said. "The fact that if I keep playing well, the chance is there that I can continue playing hockey. That's exciting and that's enough to keep me motivated." n