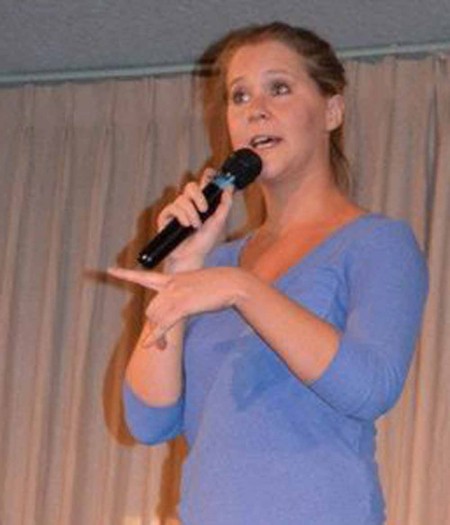 "I feel like my material is too dirty for you guys. Clap if you want me to switch over to my cleaner stuff," comedienne Amy Schumer said.
Her request was met with dead silence by the audience in the Dome Room.
"I'm usually skeptical of female comics," Dane McGoldrick, a music industry management major, said. "But she was vulgar enough to be funny."
Schumer performed in the Dome Room on Oct. 25. The topics in her act included AIDS, racism, Judaism, promiscuous college friends, personal sexual encounters, and numerous rips on Big Rapid's being in the middle of nowhere.
Aaron Curtis, senior in construction management, and Brad Morgan, senior in general biology, decided to attend the show because of Schumer's appearances on NBC's Last Coming Standing and Comedy Central's The Roast of Charlie Sheen.
"Schumer is very sarcastic. She's been on TV before and is an up and coming comedian," Morgan said.
"Plus, the show was free," Curtis added.
During her appearance on The Roast, Schumer made a very controversial joke about the death of Ryan Dunn from MTV's show Jackass.
"I'm sorry for the loss of your friend Ryan Dunn," Schumer said to Steve O (fellow Jackass star) at The Roast. "I know you were thinking, 'It could have been me,' and I know we were all thinking 'Why wasn't it?'"
At the end of Schumer's performance at Ferris, an audience member asked her about this national attention-getting joke.
"I've been receiving hate mail and death threats from the incident on The Roast from Jackass fans," Schumer said. "But I don't apologize for that joke."
Schumer has been making recent appearances in the media. A week before her performance on Ferris' campus, she appeared on Late Night with Conan O'Brien. The set was a nearly identical condensed version of her material used at Ferris.
In March of 2010, her article called "How to Win Over a Guy in 10 Seconds" was printed in Cosmopolitan Magazine. The comedienne has also performed on Late Night with Jimmy Fallon and The Ellen DeGeneres Show.
According to Schumer's website, DeGeneres was quoted as saying, "Amy is one of my favorites; I expect to see big things from this girl."
Schumer has acted on HBO's show Curb Your Enthusiasm and can be seen in a movie called Seeking a Friend for the End of the World, starring Steve Carell and Keira Knightley, which will be released in 2012.
Ferris students in attendance at her recent show approved of her crude sense of humor.
"Her racial jokes were hilarious," Karl Schwarz, a computer networks and systems major, said.
"She was a lot funnier than a lot of other comedians who have performed at Ferris," McGoldrick said. "My favorite topic was when she talked about sex… she's pretty cute."