Since the beginning of the school year, the number of damages to vehicles and bikes on campus has increased significantly.
According to previous "On the Record" reports in the Torch, the vehicles in Lots 3, 4, and 61 have been affected the most in the last few months. The damages include hit and runs, hoods and doors being dented, as well as larceny.
A student who requested to remain anonymous is extremely disappointed with the damages his vehicle has undergone.
"I'm pissed. Last year my car was totaled because of the things people did to it," he said. "This year my vehicle has been keyed, dented, and my windshield has even been smashed. It gets really old, and really expensive."
The anonymous student also explained many police reports have been filed. However, he has not seen any further action take place.
"Some of the police officers I have talked to said the damages don't look like vandalism. I don't understand how they are not seeing it," he said. "I always stop and think, 'We must not be looking at the same thing.'"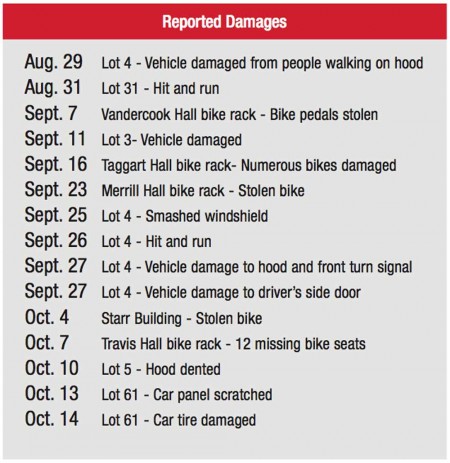 However, Detective Sergeant Timothy Jacobs of the FSU Department of Public Safety says they are taking all of the necessary steps to end the destruction.
DPS has increased the amount of foot and officer patrol to monitor the lots on campus. They are working to be more proactive in an attempt to prevent future damages from being made.
"We are working to develop suspects for the damages. Communication solves crime, and any information that we can gather, we are doing," Jacobs said.
As well as vehicle damages on campus, there have been reports of numerous bicycles being vandalized.
The bike racks by Taggart, Merrill, and Vandercook Halls have been the main targets for the destruction. Several bike seats and pedals were stolen, as well as some bikes.
"The damages to the bikes affect so many people. There has been a lot of loss and damage," Jacobs said. "Someone has to know something, and there is a reward for people who do."
In attempt to avoid vehicle or bike damages, there are many precautions a student can take, Jacobs added.
He recommends students check on their cars daily, and try to park their vehicles in a well-lit area. Also if a student has a bike on campus, they can register it with DPS, making it effortless for officers to determine who a bicycle belongs to.
"Our department is looking for any information to help solve these crimes. It's important for students to be aware of their surroundings and to be good witnesses," Jacobs said. "A lot of these crimes have the potential to be related, and we will resolve them."
Information concerning the damage of bikes or vehicles can be sent anonymously to BulldogsTextTip@nullferris.edu or call ext. 5000.