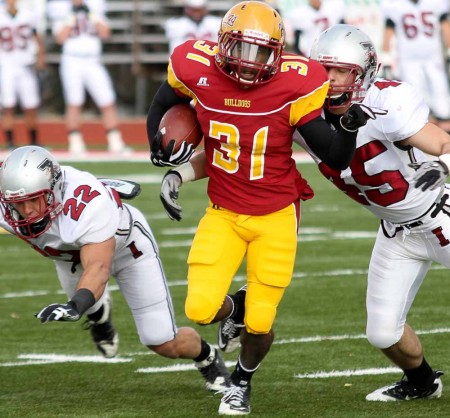 The Ferris State University football team nearly rebounded from last week's stunning loss to Grand Valley State University but fell just short as the University of Indianapolis handed the Bulldogs their first home loss of the season 24-17 Saturday at Top Taggart Field.
In the fourth quarter, the Bulldogs found themselves within the Greyhounds five-yard line but were unable to finish as Indianapolis stopped FSU three times. The Bulldogs bobbled a snap on a potential fourth down field goal attempt and were unable to score despite getting the ball back twice more.
"We were definitely disappointed to lose, but at the same time, there is a plus side," redshirt freshman running back Jamaal Jackson said. "We know what we need to fix in practice, and we know they're only small things."
"Kids Day" saw a crowd of 2,079 fans.
Late in the first quarter, FSU junior linebacker setup quarterback Tom Schneider's two-yard scoring run with a 59-yard interception return. The Greyhounds responded with 4:05 left to go in the first half with a 17-yard touchdown pass to even the score.
Minutes later, freshman kicker Victor Bodrie gave FSU a 10-7 lead when he connected on a 27-yard field goal with just 1:30 left to play in the half. However, Indianapolis claimed a 14-10 halftime advantage following a 22-yard touchdown pass to cap off a 58-yard drive.
With 5:39 remaining in the third quarter, the Greyhounds increased their lead to 21-10 on a 20-yard scoring pass. The Bulldogs answered back as Schneider found senior receiver Mike Ryan with a 31-yard touchdown pass to make it a four-point game.
Early in the fourth quarter, Indianapolis extended its lead back to a touchdown when the Greyhounds made a 30-yard field goal. FSU had two more possessions but never got any closer than the Indianapolis 43-yard line.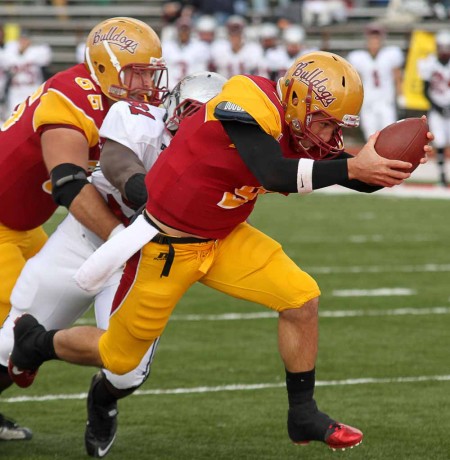 Overall, the Bulldogs recorded 362 total yards of offense (73 rushing, 289 passing). Jackson paced FSU's running game with 40 yards on 10 carries.
"I'm grateful to have gotten to show the opportunity to step up, contribute and show what I can do," Jackson said.
Schneider completed 23-of-39 passes but was sacked three times. Senior receiver Will Frazier garnered Babb Ford Play of the Game honors for his 95 yards on five catches performance.
The Greyhounds finished with 406 total yards of offense (187 rushing, 219 passing).
On the defensive end, the Bulldogs were once again led by junior linebacker Tayo Moss. Moss had a game-high and personal-best 15 tackles, including a pair of solo stops.
With the loss, FSU fell to 5-4 overall and 4-4 in GLIAC action. The Greyhounds improved to7-2 overall and 6-2 in conference play while holding on to their share of first place in the GLIAC North Division standings.
"We can't do anything about the past," Jackson said. "We're just focused on getting these next two wins. We're just focused on the task at hand."
Next week the Bulldogs will travel to the Upper Peninsula to take on Michigan Tech University for their final road contest of the regular season. After losing to GVSU 24-20 Oct. 29, the Huskies are 5-4 overall and 4-4 in league play. Kickoff is set for 1 p.m.
"These last two games are must-wins," Jackson said. "They are must-wins for this team and for this program."