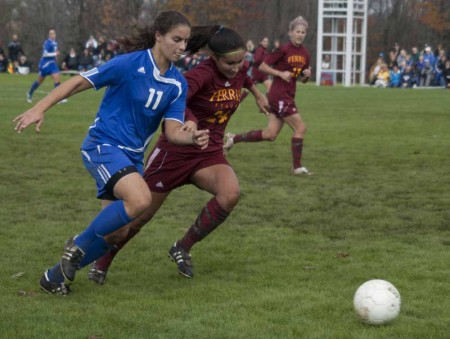 As the 2011 regular season came to a close for the Ferris State University women's soccer team, the Bulldogs had one big hump to get over as they faced the nationally 3rd-ranked Grand Valley State University Lakers Sunday.
The Bulldogs were bested at GVSU earlier this season by a score of 3-1 in a dominating effort by the Lakers. In the regular season finale meeting, FSU showed definite improvement.
Defending their home turf, the Bulldogs played a strong defensive game as they allowed only six shots on goal for the entire game. Despite solid effort, FSU still fell to the Lakers. However, the 1-0 loss was encouraging.
"We had a much better result against Grand Valley this time around. We had a couple of close opportunities, including one shot that hit the crossbar," FSU senior defender Mekyla Spraggins said. "Defensively we stepped it up and were much better this time around."
The solo goal of the match came 10 minutes into the match as Lakers' Kayla Addison fed the ball to Maria Brown who got it past sophomore Bulldog goalie Rachel McCollum.
"I was really happy with the way our girls competed," FSU head coach Matt Kellogg said. "They [GVSU] are the defending national champs and undefeated for a reason. If you give them the slightest look at a goal, they can score."
With the setback, the Bulldogs finished the regular season 7-8-3 overall and 7-5-3 in conference play. FSU ended the season in third place in the GLIAC North Division standings.
Ferris State University travelled to Ohio to take on the Ashland University Eagles in an opening round match of the GLIAC playoffs on Nov. 1. At press time, the game's results were not available. Following the encouraging loss to powerhouse GVSU, the Bulldogs were excited to get the playoffs underway.
"We are excited for the playoffs," Spraggins said. "We know there is a lot at stake. There's more on the table and if you lose you could end up going home. The little mistakes could be the end of your season."
FSU defeated AU 3-0 earlier this season.
"We went down there before and had a good result," Kellogg said. "With the pressure of being a one and done, we need to be mentally strong and prepared for the playoffs."
Check the Torch website for game results.