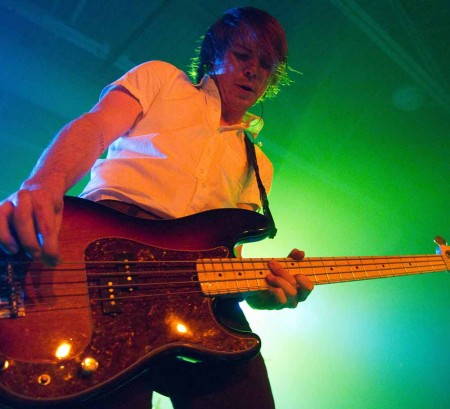 Urban dictionary defines moshing as follows: A dangerous genre of dancing related to heavy metal/rock music; usually done in crowded areas by pushing, shoving and jumping. The denser frontal part of a concert gig will usually have the crazier stunts such as trampling and crowd surfing.
Dangerous? Check. Rock music? Check. Crowded pushing, shoving, and jumping? Check. Denser frontal part experiencing trampling and crowd surfing? Check. Urban dictionary pretty much nailed everything I experienced at Autumn Alive 2011.
Things started off fairly low key with the Maine taking stage. Lead singer John Cornelius O'Callaghan V had quite a way with words, calling the audience "bastards" on one occasion. I wasn't so impressed with his communication skills, but the rest of the crowd went nuts.
Callaghan V had the audience "cutting rugs" and moving to the music, and everyone seemed to enjoy the performance. I had only briefly heard of the band, and the few songs I heard before the concert almost sounded somewhat Jonas Brother-esque. I was actually surprised by their upbeat sound. I wasn't the only one.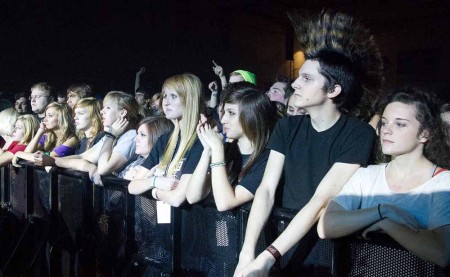 "I'd never heard of the Maine before, but they made us move so that's fun, Andrea Parshall, senior in social work said.
Andrea Jarzynski, second year pharmacy student agreed.
"I enjoyed the Maine set a lot, but I only knew one song for sure. I was a little bummed that they didn't play my favorite song," said Jarzynski.
Others, like undecided freshman Fendi Foster, were disappointed in the Maine, expecting to hear a different set.
"Normally I like the Maine, but I did not like the new album so much. But the songs that I knew they performed pretty well. I just think they should stick to their old stuff," Foster said.
Despite mixed reviews, the crowd seemed to be enjoying itself. But the excitement was nothing compared to what I'd experience when Taking Back Sunday took the stage.
The band started out with "El Paso," a song from their new self-titled album. It was somewhat darker material than I was used to from the band. But right out of the gate the crowd went nuts.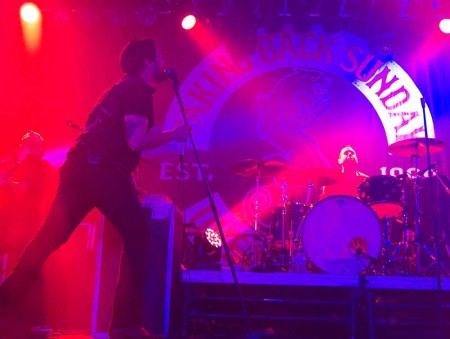 Shortly after the band busted out "You Know How I Do" and just when I thought things couldn't get any crazier, they did. I was being pushed left and right, forward and backward. There was a giant sinkhole of people nearly lying down with the swaying and moshing of the crowd. Everyone was packed like a can of sardines, a thousand rock fists in the air. Despite my obvious discomfort, everyone around me seemed to love it, including Amy Hughes, junior in public relations.
"I have been waiting since seventh grade to see Taking Back Sunday in concert; I got front row and everyone was pushing like crazy. It was intense but it added to the concert experience and was totally worth it," Hughes said.
By this point, I had to get out. I squirmed my way back through the crowd, praying I wouldn't get trampled. Finally free, I reached into my pocket to grab my phone. But I was empty handed. I'd lost my phone in the madness.
I observed the rest of the concert from outside the blob, and without the distraction of fear of suffocation. Sean Godfrey, junior in public relations, was located in the second row and loved every minute of it.
"It was loud, great, and sounded awesome. The Maine wasn't so good but when Taking Back Sunday got up stage, everyone got so pumped and I just went crazy. They dominated the stage, took command and that was what was needed," Godfrey said.
The bands really did do a great job in my opinion and "commanded the stage" as Godrey said. Oh, and don't worry. I got my phone back the next day, amazingly in one piece.