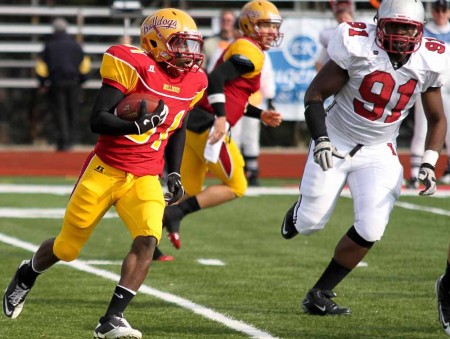 The Ferris State University football team dropped its third consecutive game as the Bulldogs fell to Michigan Tech University 41-14 Saturday afternoon in Houghton, Mich.
"It was an extremely long bus ride [to Michigan Tech], but we can't make excuses," redshirt freshman Jamaal Jackson said. "We've always got to come out and play no matter what. This week we just came out flat."
FSU dropped to 5-5 overall and 4-5 in GLIAC play while the Huskies improved to 6-4 overall and 5-4 in conference action. The victory was the ninth consecutive win for MTU over FSU.
The Huskies controlled the clock for more than 40 minutes compared to only 19:39 for the Bulldogs. This allowed MTU to tally 447 yards of total offense (236 rushing, 211 passing) while FSU managed just 274 total yards of offense (41 rushing, 233 passing).
"Offense is all about rhythm," Jackson said. "We just couldn't get any kind of rhythm going, and we fell short."
The Huskies scored on the game's opening possession after moving 66 yards on 12 plays to take a 7-0 lead. However, the Bulldogs tied the game up near the end of the first quarter when senior running back Dwayne Williams scored from two yards out.
MTU's second quarter offense was too much for FSU to handle as the Bulldogs entered halftime down 27-7 to the Huskies.
With 13:24 left in the game, FSU scored its second and last touchdown of the contest as Williams ran in from three yards out to finish a 69 yard Bulldog march in three plays.
FSU senior quarterback Tom Schneider completed 17-of-31 passes for 233 yards but was sacked three times. Senior receiver Mike Ryan grabbed three passes for 136 yards, and Williams snagged four passes for 28 yards.
Jackson led the Bulldogs' ground game with five carries for 19 yards.
"I have to give Michigan Tech's defensive line credit. They were animals," Jackson said.
On the defensive side, junior linebacker Tayo Moss had 16 total tackles for FSU including 11 solo stops. Fellow junior linebacker Alex Brajak added 10 tackles.
The Bulldogs will host Northwood University Saturday for their final game of the season, and senior players will be recognized prior to kickoff.
"Getting a win this last week is just huge for us," Jackson said. "Not just for the momentum going into next year but also for the seniors. If we get this win, we'll finish 6-5 and that's a winning record. Everyone is going to be playing hard so those guys can go out with a bang."