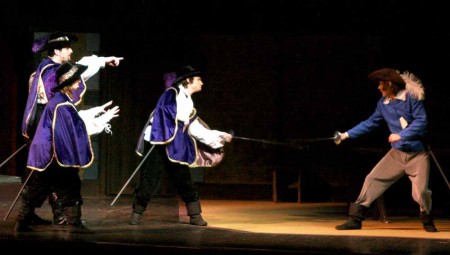 "All for one and one for all" is one of the most famous lines from Alexandre Dumas' play The Three Musketeers; it was obvious to audience members that this mentality spread beyond just the stage over the Nov. 4 weekend.
"Theatre itself is a family, but other shows have not carried as strong of a connection as we have with The Three Musketeers," Kate Schwartz, a senior in business administration who played Madame de Lannoy and Kitty, said.
"This cast has come together so well and everyone gets along. It's just nice to be around people who love something you do," Jessica Femminineo, a junior in hotel/restaurant management who played the servant Planchet, said. "It's instant family and the best family there is."
Andrew Trowbridge, fifth year student in secondary math education who played King Louis, agreed with Femminineo about the strong ties among cast members.
"This is my fifth show at FSU Theater and the theater family is always growing with new members every semester. The group is continuously open and accepting of all," Trowbridge said.
I have been to several Ferris plays before; this one by far had my favorite props and scenery. The stage was very dynamic and built quite well. The costumes were vibrant and era-appropriate.
When the play first began, some of the actors seemed nervous and difficult to understand. However, a few scenes into the play they found their groove and captivated audience members.
"I couldn't have imagined how great our audience was last night," said Dwight Desotelle, a math education major who played Athos. "They reacted and even laughed at weird spots. They were awesome."
Desotelle added that this has been one of the best experiences of his college career.
"The audience seemed rather responsive compared to other opening nights in the past," Schwartz said.
Trowbridge was very happy with the size of the audience on opening night as well. The numbers surpassed what he had expected.
"The laughter and the applause after every seen was unexpected and much appreciated!" Trowbridge said.
Opening night of the play faced some tough competition with Autumn Alive.
"I expected having a small amount of audience members given the circumstances of other events going on," said Airia Anton, a sophomore in English who played Bicarat. "I was very pleased that we had some people in the audience."
Though the initial turnout was better than some cast members anticipated, audience members began trickling out of Williams Auditorium around Scene 10 due to the length of this year's play.
Femminineo admits the show was long, but added that it was worth every second.
"I wish the audience would have had the patience to stay; it really was a great show," Trowbridge said.
In response to a previous article published in the Torch, Femminineo said, "Give the theater department a chance. Even though some articles may say we are 'amateur,' try us out for yourself. If you want to join the theater family, through costumes, shows, or crew, do it! We always need more family and will be happy to accept you."
Tyler Easton, a junior in television and digital media production who played Porthos, wishes to see the theatre family at Ferris expand as well. He hopes people who are passionate about acting get involved.
"If you think that theatre is something that you would be interested to participate in, please, by all means, take advantage of the opportunity," said Easton. "I have met some really great people through Ferris theatre and made a lot of friendships that I will treasure forever."
Now that the play is over, cast members can take a break until Ferris' next show.
"I don't know what I'm going to do with myself Monday night having so much free time and not surrounded by a crowd of people in silly hats," said Anton.
Anton also hopes Katherine La Pietra, director and adapter of the play, gets some well-earned rest.
"She's the best theater director I've ever had and I appreciate that she sacrifices her time so we can have a theater program at Ferris," Anton said.