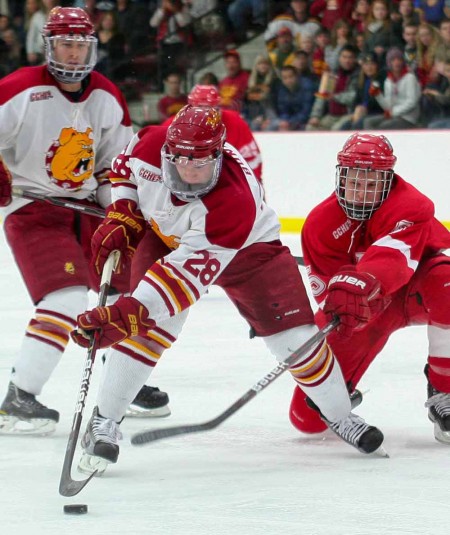 The FSU men's ice hockey team rebounded from two tough losses to the University of Michigan last week with two dominating victories over Bowling Green State University.
The nationally 10th-ranked Bulldogs travelled to Bowling Green, Ohio, where they faced the Falcons and improved their record to 8-2-0 overall and 3-2-0 in CCHA play. BGSU fell to 4-4-1 overall and 1-4-0 in league play.
Friday, senior FSU goaltender Taylor Nelson registered his second shutout of the season as the Bulldogs blanked the Falcons in a 4-0 decision. He tallied 29 saves while improving his record to 4-1 overall and 2-1 in conference action.
Sophomore FSU left wing Garrett Thompson put the Bulldogs on the board as a pass from senior FSU defender Derek Graham created a two-on-one situation heading into the BGSU zone. Thompson attempted to pass the puck to senior FSU forward Jordie Johnston, but the pass was deflected by the skate of a Falcon defender and sent to the back of the net.
Also scoring for the Bulldogs were junior forward Eric Alexander, junior forward Matthew Kirzinger and senior defender Brett Wysopal. Nelson, Thompson, Johnston and junior center Travis Ouellette were all credited with assists for FSU.
Saturday, Nelson notched his second victory of the weekend as he made 31 saves on BGSU's 34 shots on goal in the Bulldogs 5-3 victory over the Falcons.
Just 1:01 into the first quarter, Johnston scored his fourth goal of the season off his own rebound. Thompson and Kirzinger were credited with the assists. Johnston scored again for FSU in the second period.
At the 8:47 mark in the second period, BGSU tied the score at 3-3 on power-play goal. However, FSU responded with five minutes left in the period when sophomore defender Scott Czarnowczan found Johnston for his second goal of the night.
Senior right wing Aaron Schmit, freshman TJ Schlueter and Wysopal also scored for the Bulldogs.
FSU will return home Friday for a two-game CCHA series against Lake Superior State University. The puck will drop at 7:05 p.m. Friday and Saturday. According to Bulldog head coach Bob Daniels, LSSU is a much improved team, and the upcoming series has the potential to be a great one.
"They're leading the league right now in the CCHA," he said. "They're really playing well right now."
The first 500 fans to Friday's game will receive a Ferris Hockey Stress Puck. Also Friday, a special silent auction featuring signed Detroit Red Wings memorabilia will be held during the game with proceeds going to Big Rapids High School hockey head coach Tim Blashill whose family fell victim to a severe fire in mid-October which damaged their home and destroyed many of their possessions.