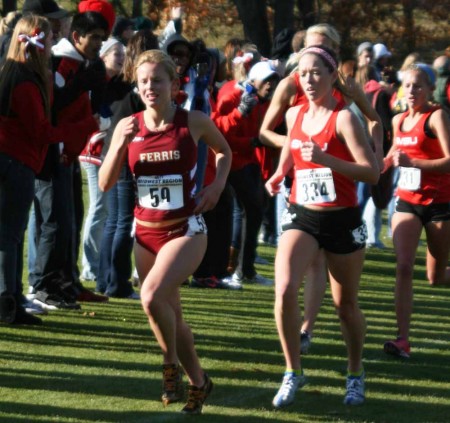 With the season on the line for the Ferris State University men's and women's cross country teams Saturday at the NCAA-II Midwest Regional meet, the Bulldogs had to be top finishers in order to advance to the NCAA Division II National Championships in Spokane Washington on Nov. 19.
The women's team, which was ranked 6th -nationally in the latest poll, earned their second consecutive 2nd place regional finish in the competition despite competing without top runners senior Tina Muir and sophomore Samantha Johnson due to injuries.
"It wasn't too bad going into the event without them," FSU sophomore Haleigh Przybylek said. "We just had to be mentally tough to achieve our goal."
FSU did not lose focus as they finished just behind champion Grand Valley State University. The second place Bulldogs were 3:47 behind the Lakers.
FSU Junior Anna Rudd led the way with a second place individual finish. She garnered all-region accolades for her performance. Rudd was followed by junior Alyssa Osika in 10th place and junior Shelby Janutol in 16th place.
The FSU runners were "ecstatic" when they qualified for the National Championships for just the sixth time in school history and the third time in three seasons. Prior to 2008, FSU had not been represented at Nationals since 1987.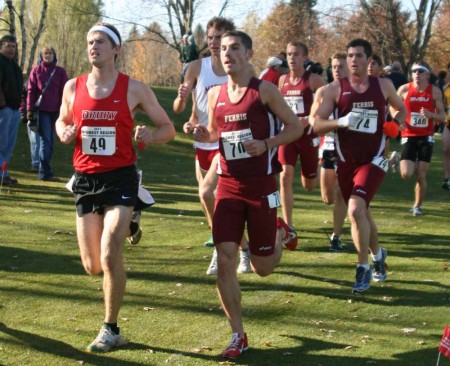 Saginaw Valley State University and Ashland University also earned a trip to Nationals as the teams finished in the top four in the 24-team regional field.
Despite running hard, the men's team saw their season come to an end following their 5th place finish. Competing well for the Bulldogs was junior Tyler Crossman who finished 29th overall with a time of 33.19.3. Finishing right behind Crossman was senior Alex Best with a time of 33.19.4.
All the Bulldog runners finished in the top 65 but fell short of qualifying for Nationals by 2:49 collectively. GVSU, South Indiana University and Ashland University notched the top three spots in the competition and will be traveling to Washington to compete for a national championship.
As the women's team prepares for the biggest race of the season, the Bulldog runners hope to improve upon last year's 8th place finish at Nationals in Louisville, Ky. Last season's finish was the highest in the program's history.
"Every race in the regular season is just an opportunity to train for the National Championships," Przybylek said.