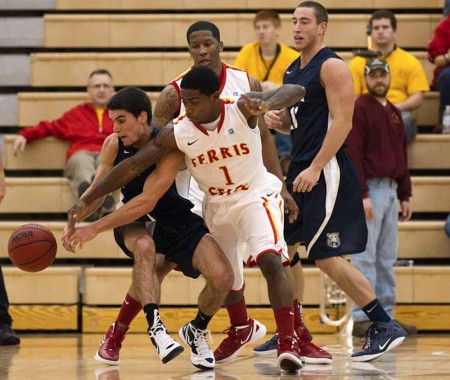 After helping lead last year's Bulldogs to a GLIAC Championship title and the Sweet Sixteen of the NCAA D-II Tournament, senior Dontae Molden wants to repeat last year's performance.
Molden is faced with the challenge of utilizing a team that lost four starters from last season. This year's team will have to make it to the GLIAC Championships without last season's GLIAC Player of the Year Justin Keenan who led last year's Bulldogs in scoring.
"It's a complete turn around, I was with those guys for three years," Molden said. "Now I just have to step up and fill in their shoes. There's two people who can't have bad practices this year and that's me and Coach Sall."
Molden acknowledged that it would be hard to accept anything less but another GLIAC Championship this year because he wants another one.
"Now I see after playing Michigan State that we have what it takes to be that team again," Molden said. "Once we get some consistency down, there's no other option."
Molden believes this year's team has more options on offense. As the starting point guard of this team, Molden likes being able to have confidence in every player's offensive abilities on the court.
"This year we won't rely so much on one person, but instead have everybody step up and have confidence," Molden said. "This year I feel we can be a more versatile team."
Last season taught Molden a lot about the game of basketball and now he will have the responsibility to help teach eight freshmen. Freshman guard Dietrich Lever will be Molden's understudy for this year, as Lever will be Molden's back-up point guard for the season.
"Dontae is a great leader," said senior Jerrel Sanders. "He does a good job of leading, especially with a young team. We know he's going to show up to practice ready to work everyday and everybody just follows suit."
Before Molden's career as a Bulldog comes to an end, he hopes to break the top three for leader's in assists for the history of the Bulldog's basketball program. Improving his shooting percentage and maintaining defensive intensity while leading this year's Bulldog team are also priorities for Molden.
Molden was given the nickname Jamaal Tinsley when Molden first started playing basketball in seventh grade because he was so effective at playmaking.
Without his Father, Molden may not have gotten to where he is today. His father coached him when he first started playing in the Amateur Athletic Union. Molden attributed the way he learned to lead from the way his father led.