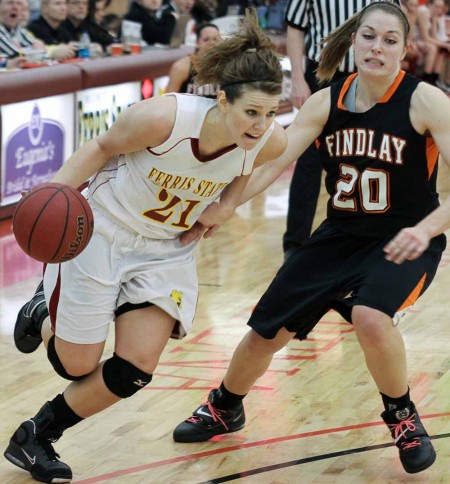 As fall sports begin to wind down, rabid Bulldog fans are beginning to look forward to watching winter sports.
For many, that means basketball at FSU's Wink Arena.
The women's basketball team is looking to explore new territories in the upcoming season, starting Nov. 12 against Lewis University and followed by USC Aiken Nov. 19 in South Carolina for the Lander Lady Bearcats Tipoff Classic. For a successful season, the Bulldogs look to sophomore guard Sarah DeShone for leadership.
DeShone, an education major, has been around the game her entire life and is now perfecting her skills at FSU.
"Ever since I can remember, I have been playing basketball," DeShone said. "My dad was a coach and my brothers played."
According to DeShone, two of her brothers play collegiate basketball for small schools in Indiana.
Although born and raised in Indiana, DeShone decided to move to Michigan to continue her basketball career because she likes how welcoming FSU felt on her recruitment visit.
"I really liked the team atmosphere here," DeShone said.
Going into her sophomore season, the team looks to DeShone for leadership and motivation. Despite being an underclassman, DeShone inspires her teammates on the court.
"She is one of the best leaders on the team," freshman guard Katie Mavis said. "She really pumps us up out there with her positive energy."
DeShone's leadership extends beyond the basketball court. Like every student-athlete, she has to balance academics and athletics while still making time for a social life. DeShone is also a representative for the women's basketball team on the Student-Athlete Advisory Committee.
"Trying to balance everything is just having your priorities right," she said. "It takes a lot of time management skills to do your best with everything your involved in."
As the basketball season starts to heat up, DeShone has high goals not only for herself but for the entire team.
"My goal for this year is just to get better every day because I feel like a leader out there," DeShone said.
Her team goal for the upcoming season would be to "win the GLIAC championship, make it the NCAA tournament and goes as far as possible."
Mavis believes the team can accomplish the lofty goals under the expert leadership of DeShone who she says is one of the best leaders she has ever looked up to.
"I think she is different [from past teammates] because she works hard every time she goes out on the court," Mavis said.
Clearly, Sarah's teammates love her, and she feels the same way about them. When Sarah was asked what her favorite thing about Ferris State University is, she immediately answered her team.