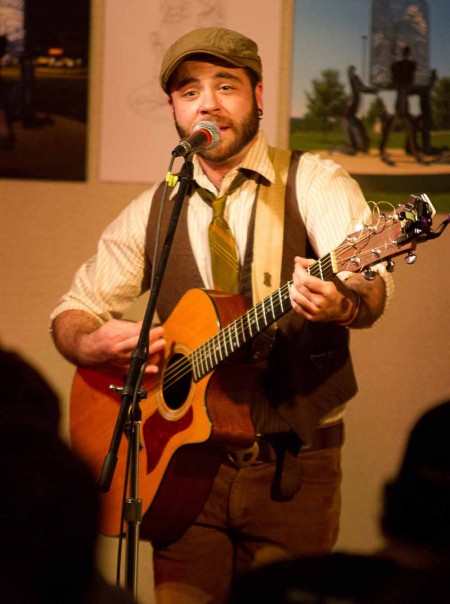 Hailing all the way from the "left coast," Coyote Grace filled the Rankin Art Gallery last Wednesday.
If you wanted a good view you should have arrived early, as students from other universities even came for the show. Three students mulling around the outside of the gallery were obviously stoked to see the band perform. "We just love Coyote Grace," Amy Carter, a junior at EMU studying women's gender studies and psychology, and Melanie Teschke, a sophomore at Central Michigan studying sociology, said.
"We drove about three hours just to see them; they're the best," Dane Fishow, sophomore at EMU studying international business, said.
Coyote Grace was brought to Ferris through the collaborative efforts of several RSOs and students, including recent Ferris graduate Bianca Vasovski. Vasovski has been completing her internship with the band for the past year, touring, promoting and generally helping out where she can backstage. Watching her zip from sound board to backstage to outside to grab something was dizzying. It takes a lot of work to put on even the small shows, and Vasovski and the collaborative skills of MIMA students made it go off without a hitch.
Before the show I had a chance to catch up with Vasovski who has been on the road with the band for several months. I asked her if being on the road was as glamorous as the movies and magazine portray it. "No," she said bluntly and laughed. "No, it's nothing like that. It's definitely fun, but it's a lot of hard work," Vasovski said. She had this to say to those seeking a career in the music industry: "Don't doubt yourself or doubt others. People are willing to work with you."
The hard work is definitely worth it too. Coyote Grace took the stage with force to a cheering crowd who hung on their every note. They sounded phenomenal and entranced any who dared listen to their harmonious melodies. Michael Connolly's custom-made violin sang with the warm tones of Joe Steven's acoustic Taylor guitar, and Ingrid Elizabeth did a great job of showing her abilities to control an upright bass twice her size.
"The band has been together for six years and I'm the newest member," Connolly said. "We've toured all over the place including our 2010 tour with the Indigo Girls. Our 5th album is called Now Take Flight and it just came out. Everything on there is self made and produced."
To find out more about Coyote Grace or to find out how to buy a CD or see them live, visit coyotegrace.com.