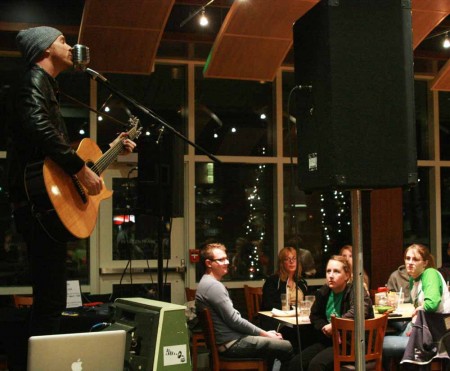 With a sophisticated use of loops and a unique incorporation of sounds, Preston Pugmire brings distinction to the acoustic indie pop genre and performed at the Rock last Tuesday.
Pugmire recalled a certain song inspiring his love for writing and performing.
"When I was a kid, I saw a music video for Radiohead's "Just." It rewired my brain and blew my mind. When I realized that kind of music was out there and that it could affect people the way that it affected me, I knew I couldn't do anything else but music," Pugmire said.
Melissa Hanson, accounting and finance junior and Entertainment Unlimited member said, that Pugmire was chosen with the setting in mind.
"He has a really good sound and a low key vibe. We thought it was appropriate for the Rock. We figured if we put it in the Rock it would be like a cool coffee house feel," Hanson said.
Pugmire thought the food could only help him.
"All the kids have really warm energy. This is such good food and everyone is already happy," Pugmire said, now a fan of the Rock's Mongolian grill.
Despite a rather small audience, Pugmire did indeed play for a happy, interactive crowd. Pugmire had people clapping and singing along with covers of songs such as "Hey Ya" by Outkast and "I Want You Back" by Jackson 5, and impressed the audience with his original songs involving beat-boxing and looping skills. Other original songs like "Headphones" were meant to pull at the audience's heartstrings.
"It's about sharing headphones with someone and falling in love while you are listening to the song. When you have a crush on someone and you share headphones, there are few things greater," Pugmire said.
"I love the way he mixes it up. He plays as little bit of everything. It's cool to chill. I thought this place would be packed but it wasn't, so I would come again for sure," Jon Melcher, automotive management junior, said.
For more of Pugmire's music, visit Prestonpugmire.com.