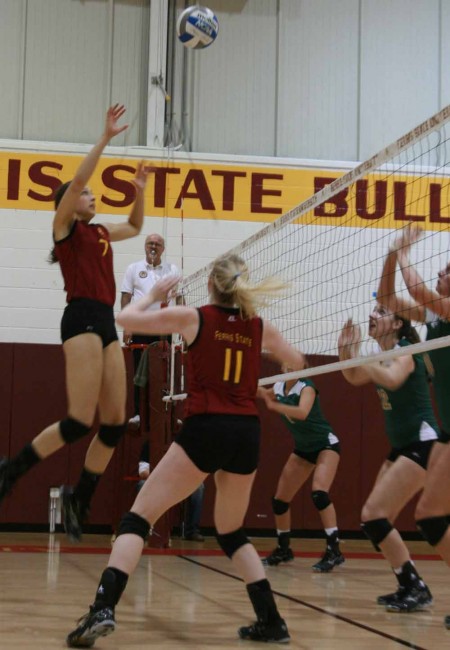 Entering the GLIAC Tournament, the Bulldogs were ranked as the top overall seed in the conference.
The quarterfinal matchup against Wayne State University proved to be an easy one.
The Bulldogs took on the Warriors and continued the impressive season by winning 3-0 in straight sets (25-15; 25-18; 25-8) to advance onto the GLIAC semifinals.
"I was at the game and that was the loudest volleyball game I've ever been too and the arena was packed," freshman nursing major Murphy McDougal said. "It was a fun game to watch it'll be interesting to see how they do in the NCAA tournament."
Leading the way for the Bulldogs were senior outside hitter Ashley Huntey and junior middle hitter Anne Sutton who each recorded 11 kills. Senior libero Lisa Tobiczyk contributed 15 digs in the match followed by junior outside hitter Aly Brecht with nine digs.
FSU head coach Tia Brandel-Wilhelm recorded a historic mark for the Bulldogs as she recorded her 331st overall win. She surpasses Jill Hirschinger for the most all-time wins as a volleyball coach for FSU. Hirschinger's record held for 16 years until Thursday.
Next in line for the Bulldogs was Ashland University in the GLIAC Tournament semifinals.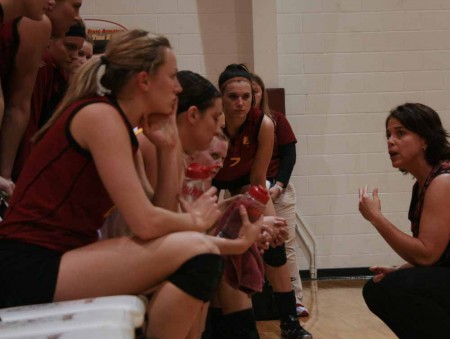 Once again, FSU emerged victorious in straight sets once more blanking the Eagles 3-0 (25-15; 25-17; 25-19) and advancing to the GLIAC tournament championship.
Taking charge for the Bulldogs once again was Sutton as she turned out a .538 attack percentage as she led the Bulldogs with 14 kills.
The win boosted FSU to a 10-game winning streak and an overall 15-0 undefeated record at home this season.
"A ten game winning streak is pretty incredible, I hope they can continue this going into the big dance," freshman radiography major Christina Cordry said.
Last on tap for the Bulldogs was second seeded Hillsdale Chargers for the GLIAC Tournament Championship. Despite defeating Hillsdale 3-0 earlier this season, the Bulldogs fell to the Charge in three straight sets by a score of 25-19; 25-21; 25-19.
The GLIAC "Player of the Year," Ashlee Crowder, led the Chargers to a win in Big Rapids by recording a match-high 21 kills.
FSU earned a berth to the NCAA Division II National Tournament with a second overall seed in the Midwest Region.
The Bulldogs will take on Saginaw Valley State University in opening action Friday at 2:30 p.m. Hillsdale, the number one overall seed, will host the Regionals.