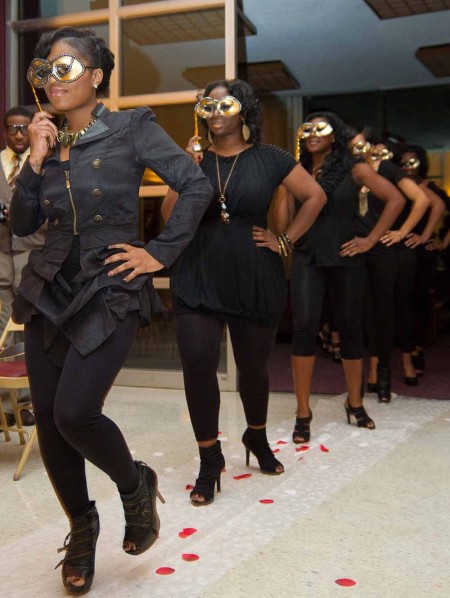 On Nov. 10, Ferris State University's Alpha Phi Alpha Fraternity Inc. held its annual Miss Black and Gold Scholarship Pageant showcasing women from across the FSU campus.
"The Miss Black and Gold Pageant is our way of showcasing the intelligence, talent, excellence and beauty of women on the campus of Ferris State University," Ferris student and Alpha Phi Alpha President Kevin Baldwin said. "I appreciate the support from the campus, community and alumni."
Taking place in the Rankin Student Center Dome Room at 7 p.m., the pageant was divided into five categories including: Miss Black and Gold (1st place), Miss Gold (2nd place), Miss Black (3rd place), Miss Talent and Miss Congeniality.
Contestants for the 2011 Black and Gold pageant included Brittany Hines, Kiara Plump, LaTara Steele, ShaQawana Smith, Jgi Jgi Muhammad, Bria Harvel and Janel Sanders.
Winners included: Jgi Jgi Muhammad (Miss Gold), Janel Sanders (Miss Black and Miss Talent) and Bria Harvel (Miss Congeniality).
Miss Black and Gold winner LaTara Steele said she had been working to win the crown since first coming to FSU.
"I wanted to be Miss Black and Gold since I first came to Ferris State. It's a great way to finish my college career," Steele said.
Judges for the competition included William Steele, Andrea Beck, Matthew Chaney and Kia Hunter.
"Overall, LaTara displayed the best of all the qualities of a Miss Black and Gold winner," William Steele said.
Winners of the Miss Black and Gold Pageant are selected at the Chapter level, the District level, the Regional level and the National level. National winners will receive a scholarship in the amount of $1,000. Steele will now compete in the district pageant against representatives from Central Michigan University, Western Michigan University, Michigan State University, Grand Valley State University and the University of Michigan.
"It's a little intimidating, but I'm still excited to be a part of the district competition," Steele said.
The Black and Gold Scholarship Pageant was held during Alpha Phi Alpha's Greek Week. A $5 entry fee was charged to audience members.
Alpha Phi Alpha's Miss Black and Gold Pageant has taken place at FSU for over 30 years. The first national Miss Black and Gold Pageant was in New York City in 1976. The winner was Georgia State University representative Miss Denise Smith. n