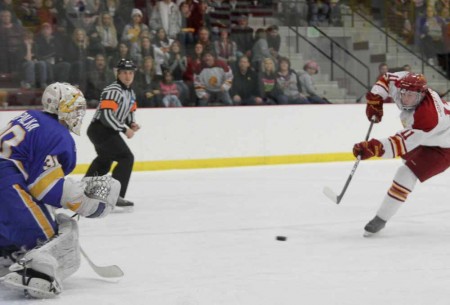 The Ferris State University men's ice hockey team will pack its bags for Alaska after denying Lake Superior State University the opportunity to tarnish the Bulldogs perfect home record.
FSU remains undefeated at Ewigleben Ice Arena after claiming a 5-1 victory Nov. 11 over Lake Superior in the opening night of a two-game series between the two nationally ranked teams.
The nationally 8th-ranked Bulldogs held on in the season finale, earning one league point in a 1-1 tie against LSSU Nov. 12. Though, the 11th-ranked Lakers surpassed FSU in a shootout after neither team could score in overtime. LSSU earned two league points for the shootout win.
The Bulldogs improved to 9-2-1 overall and 5-2-1 in the Central Collegiate Hockey Association. FSU has 16 league points and are in second place in the CCHA standings. The Bulldogs are one point behind league leaders Lake Superior State, Ohio State and Notre Dame.
The Bulldogs boast the fewest goals allowed in the CCHA. FSU has allowed only 16 goals in eight league matches and 19 goals in 12 games overall this season. Bulldog junior forward Kyle Bonis said the entire team takes pride in their defense.
"We realize five guys have to defend the net, but we're also fortunate that if a defensive lapse does happen, we have two great goalies that we have utmost confidence in," Bonis said.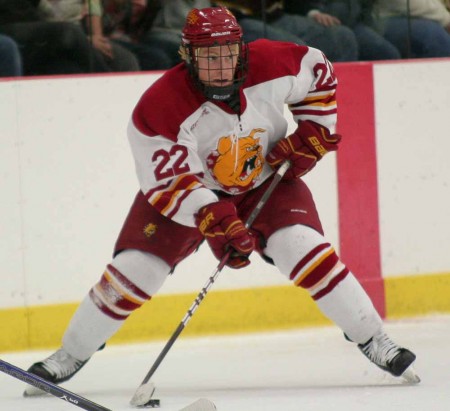 According to U.S. College Hockey Online, both Bulldog goaltenders are in the top 10 in the nation for Division I goaltenders. FSU is third in the nation in team defense by allowing only 1.58 goals scored per game.
"We play our own defensive game and we don't change it for anyone," FSU senior center Jordie Johnston said. "There's not a whole lot we need to change, we just need to capitalize on our chances."
The Bulldogs will next challenge the Nanooks of the University of Alaska Fairbanks Nov. 18-19. FSU has returned home with series sweeps over the Nanooks three times in the past 15 years.
"Alaska is a different kind of animal," Bonis said.
The Bulldogs will play the Nanooks on their Olympic sized ice rink (200 feet long and 100 feet wide). The Nanooks' ice rink is 15 feet wider than the Bulldogs' home ice, but Bonis thinks the Bulldogs will benefit from playing on the Olympic sheet.
"You really have to be on your game and watch your man. But in the offensive zone there are more lanes for passes and there's more room to move," Bonis said. "I think that plays into our strengths because we do have a really talented team and really sound defensive team."
The Nanooks are 0-6-2 in the CCHA and 3-7-2 overall. Alaska is 27th-ranked nationally in team defense, allowing 2.83 goals per game, according to USCHO.
Alaska has taken both league leaders Ohio State and nationally 7th-ranked Notre Dame beyond regulation this season. They have also faced nationally 5th-ranked Western Michigan, snagging a tie in a two-game series.
"I think Alaska is a lot better than their record shows right now," Johnston said. "We can't go in there thinking they're just going to give us the wins. We have to work hard to get them."
The puck will drop at 11:05 p.m. both nights in Fairbanks, Alaska.