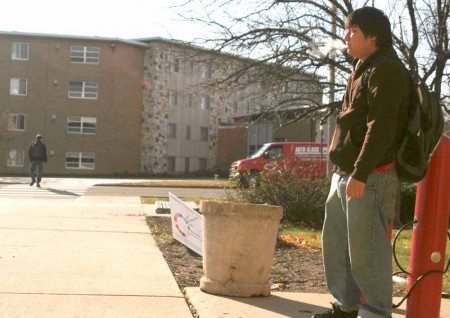 The Ferris Colleges Against Cancer RSO is taking big steps to inform students of the effects of smoking.
The organization is teaming up with the American Cancer Society and bringing the Great American Smokeout event to campus.
"The Great American Smokeout is a nationwide event for people to quit smoking and to encourage smoke free campuses," Kelli Smith, president of CAC and second year pharmacy student, said. "We are doing it so people who want to quit have the help and support they need."
As a part of this event, the organization will be having a petition signing on Thursday and Friday. The petition states that the students who sign are opposed to the current smoking policies on campus and are advocating a change to make FSU smoke free.
The organization will be having a drawing for students who are interested in quitting smoking. People can win Nicorette gum or lozenges. There will also be a drawing for students who don't smoke.
Whitney Rivest, vice president of CAC and junior in business administration, hopes the petition will inform students of the difference they can make.
"We are looking to make awareness. There is far more people on campus who do not smoke than there are people who do," Rivest said. "We're trying to get as much interest and as many students enthused about making FSU smoke free as possible. We want enough signatures to make an impact."
Many students, such as Amanda Batenburg, freshman in social studies education, agree with the idea of making Ferris smoke free.
"I think a lot of people would be upset about it at first, just like when all of the restaurants became smoke free," Batenburg said. "But I think it's a great idea. I hate when I'm sitting in class and I can smell the smoke from the person sitting next to me. It's gross."
Although there are many students who feel this way, there are still a number of students who disagree with it completely.
Mike Pranger, sophomore in criminal justice, has been smoking cigarettes for three years now. He smokes an average of 10 cigarettes each day.
"I think it's dumb. We are all adults and should be able to decide whether we want to smoke or not," Pranger said. "That's like telling a 40-year-old man he can't smoke in his house."
He also said he didn't see any benefits that would come from making FSU smoke free, other than people being forced to quit smoking.
Smith and Rivest have been told that it is a part of Ferris State's 10 year plan to become smoke free. However, according to Rivest, the goal continues to get pushed back.
"It has been getting pushed back because things have come up that take a little more prevalence, but by showing how much interest there is we are hoping it will become more of a priority," Rivest said. "We don't have the control of enforcing anything; we just have the control of getting the word out."
Smith added that the people involved with this event are not going to judge people who smoke.
"We want people to know that we are here to help them and give them support. If they want someone to talk to, we are here," Smith said. "We have information if they want it."
The petition signing is set to take place in the IRC and Rankin Center on Nov. 17 and 18 from 9 a.m. to 4 p.m.