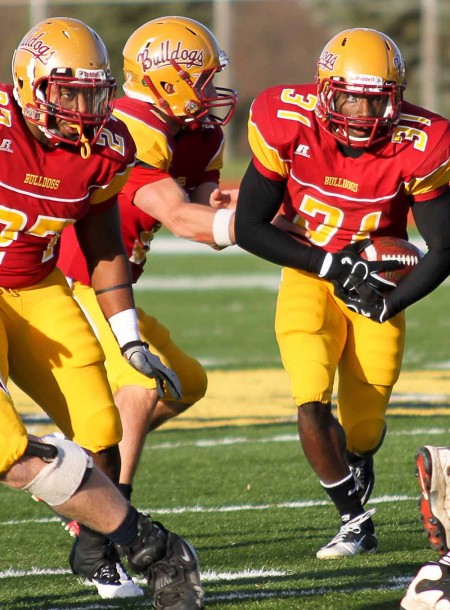 For the first time since 2008, the Bulldogs registered a winning season as FSU defeated Northwood University 30-14 Saturday afternoon at Top Taggart Field.
"It was the picture perfect ending to a pretty decent season," redshirt freshman running back Jamaal Jackson said. "It was a bittersweet win. It was the best outcome in the given situation we were in."
The win snapped FSU's three-game losing streak, and the "Senior Day" victory lifted the Bulldogs to 6-5 overall and 5-5 in GLIAC action. The Timberwolves fell to 2-9 overall and 1-9 in league play.
"We didn't have the season go the way we wanted, so going out with a win was a good thing," senior quarterback Tom Schneider said.
Nine Bulldog seniors were honored prior to kick off as they concluded their collegiate football careers. FSU recognized Schneider, wide receivers Damien Miller, Mike Ryan and William Frazier, punter Shawn Snoor, offensive lineman Jake Hancock, defensive tackle Muneer Bawayeh and defensive backs Antwian Windmon and Courtney Tipton.
"Those guys are warriors," FSU head coach Jeff Pierce said. "They've battled their butts off in the last four and five years in our football program. I take my hat off to the character and the commitment those guys made. The leadership will be greatly missed."
The Bulldogs tallied 346 yards of total offense (221 yards rushing, 125 yards passing) compared to 333 total yards (269 yards rushing, 64 yards passing) for the Timberwolves.
In his final collegiate contest, Schneider completed 11-of-22 passes and paced FSU's ground game with 70 yards on 13 carries.
"I'll miss playing football," Schneider said. "It's the only time in your life you get to hang around with 110 guys playing the game you love. There's nothing better than that."
Ryan snagged four catches for 73 yards to wrap up his college career. He gave Bulldog fans something to remember with a 59-yard grab from Schneider for a second quarter touchdown.
Junior running back Dwayne Williams and redshirt freshman running back Levonte Brooks both registered touchdowns in the first half, and freshman kicker Victor Bodrie connected on a 42-yard field goal in the fourth quarter.
The Bulldog defense responded tenaciously as NU ran the ball 62 times in the contest. Junior linebacker Alex Brajak registered a game-high 18 tackles. Junior defensive lineman Rance Mask contributed a career-best 15 stops, and defensive end Jordan Morgan had 15 tackles as well. Morgan also had an interception return, a sack and two quarterback hurries.
The victory allowed FSU to not only finish the season with a winning record, but also with a 5-1 mark in home contests this year.
Jackson said the team is "absolutely" already thinking about next season.
"We want to win a championship," he said. "Our mindset is to work and work hard to get where we want to go."