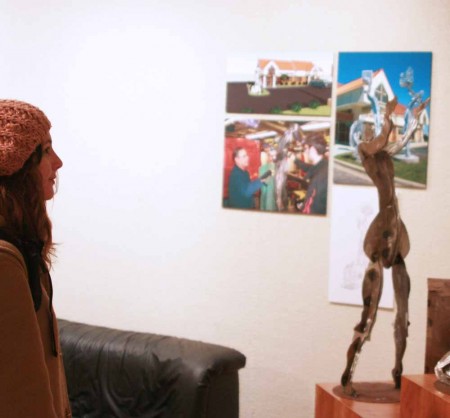 A new Aesthetic Engineering display in the Rankin Art Gallery showcases the artwork of over 25 students.
Aesthetic Engineering is the combination of fine arts and problem solving.
Some examples of Aesthetic Engineering can be found around town, such as at the Riverwalk, in front of Isabella Bank, the hospital, and Lake- Osceola State Bank. This kind of artwork is also present in the Student Recreation Center and Wink Arena.
Conrad Ruffilo, senior in welding engineering technology, described the project as the "creativity of the artistic world with a mixture of the strength and the structural design of engineering."
On display at the gallery are small welding projects, sketches, photographs of the large pieces of welded artwork throughout the city and plaster sculptures.
This project challenged engineering students to step outside of their comfort zones and interact with their artistic sides while incorporating skills they were already familiar with, such as welding.
A senior in the welding engineering program, Ben Robinson, said "When I produce a weld, I like to think that the weld in itself could possibly be a piece of art. It's different that the whole thing is a piece of art."
The two qualities of design and nontraditional engineering problems force students to combine museum quality public art in a nonlinear way. That is, according to art professor Robert L. Barnum, not just building a bridge, but building a bridge and making it look good.
The students strove to create art that had zero maintenance, a long life, was cost efficient, and was still a personal narrative.
Ruffilo said one of the highlights of the project was to be able to create a long lasting sculpture that he could one day show his grandchildren. "Not everybody is going to be able to say they were a part of something like this," Ruffilo said.
Brandon Boyer, a sophomore in welding engineering technology and lab supervisor for Barnum's three dimensional design class, is one of the students whose work is featured in the exhibit. Boyer was originally an art major, so this project was the perfect combination of his two interests.
Boyer worked on a deer made from scrap metal. One of the main concerns was the body of the deer was made from a gas tank.
"It still reeked of gasoline," said Boyer. "I was petrified of welding on it because I was afraid it would blow up."
Barnum said one of the main aspects of Aesthetic Engineering is problem solving.
"Artists make things, but our goal is to make things better," Barnum said.
The display will be in the Rankin Art Gallery until Nov. 22. n