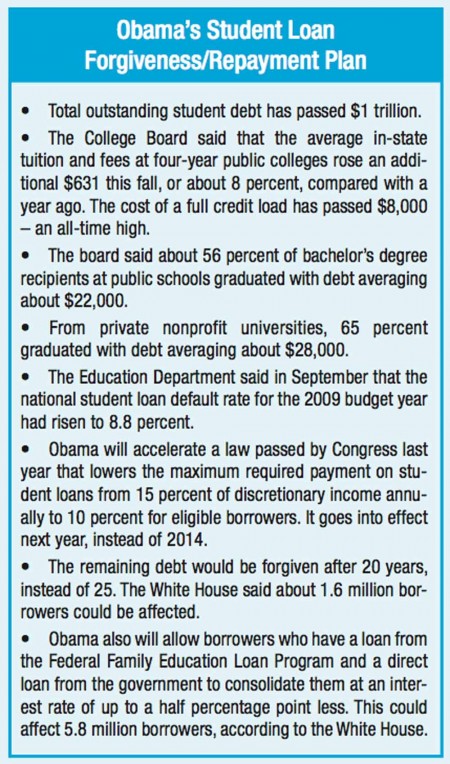 Ferris students have felt the effects of raising tuition and a slow economy, but Obama's new student loan plan promises to help ease the pain.
Amidst the turmoil, President Obama has come forth to announce his hopes for alleviating student loan debt. This plan will allow students to "pay as they earn" by consolidating their federal loan payments into a single payment not to exceed 10 percent of their discretionary income. The plan will also forgive debt after 20 years of payment.
"It will make it easier for students," Professor Christine Bailey said. "It will give them breathing room."
While the plan may soothe payments, Bailey points to tuition, books and housing as the biggest financial burdens in college and that this plan alone will not help those who cannot afford college get in.
College affordability has become a problem in recent years. Some students feel the plan doesn't seem to do much to help those who can't get into college. Admissions declined to comment on how the plan would affect student admission at Ferris.
Ferris students have shown cautious reactions to the plan, unsure of how much of an effect it will have. "They're not going to have to worry about payments as much," said Valoree Burns, an undecided sophomore. "From what little I know I don't really see a downside." She added, "I'm just not sure I can trust that they're really trying to help us."
"It's a tough call [on how much the plan will help students in debt]. You have the kids going into pharmacy that are racking up a lot of debt and it will probably help them," Brett Bieth, a sophomore in health care systems administration, said.
He was skeptical of how much the plan would help him with his expected $40,000 debt.
The problem seems to be the obscenely high cost of education, the direct cause of the out-of-control student loan debt. "It's a band-aid fix," Andrew Finnerty, president of the Ferris Economics Club, said.