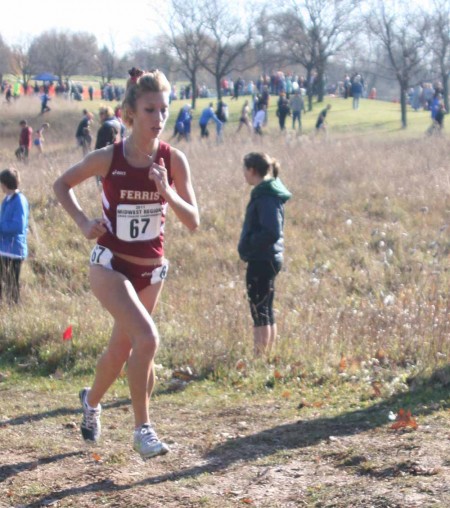 FSU senior Tina Muir led the women's cross country team to an eighth place finish as the Bulldogs wrapped up the 2011 season at the NCAA Division II National Championships Nov. 19 in Spokane, Wash.
Muir finished in sixth place overall as she helped FSU tie its highest finish in school history, which was set last season. She completed the course in 21:28.6.
"I was really happy with the finish," FSU men's and women's cross country head coach Steve Picucci said. "The girls really stepped up, with all of the injuries and setbacks we've had this year, and to finish in the top ten nationally was a great feeling."
The Bulldogs received strong running performances from juniors Anna Rudd and Alyssa Osika. Rudd finished in 22:08.8 to capture 26th place overall while Osika earned 54th overall with a time of 23:03.1.
"It was a great achievement for us," Muir said. "We've had setbacks and challenges throughout the year, and we were running without our number two runner. But with our hard work, it was an amazing achievement."
Two members of the FSU cross country team garnered All-American honors for their performance at Nationals. Muir and Rudd were named All-Americans after finishing in the top 40 runners at the National Championships.
"I was pretty excited, even though the conditions were terrible out there," Picucci said. "I was still pretty happy and excited for Muir and Rudd."
This award was especially meaningful for Muir as she concluded her collegiate cross country career as the only runner in Bulldog history to have earned All-American laurels four times. According to Picucci, she is the most decorated runner in FSU history. However despite this status, Muir remains humble.
"I don't feel what I did was too out of the ordinary," she said. "Everyone puts in effort and hard work, but I was just extremely lucky to accomplish everything. I had a great support network to help me realize my full potential." n