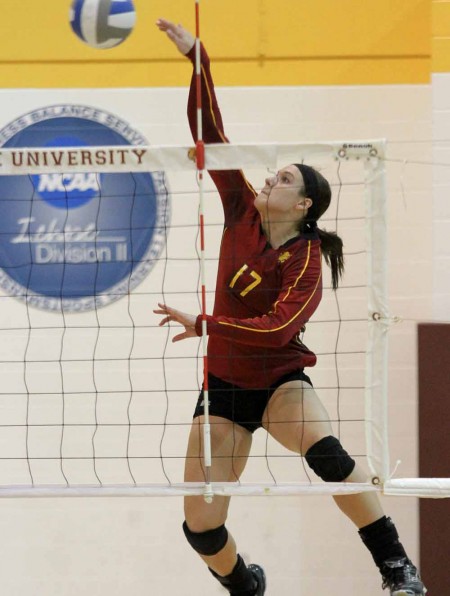 Collegiate careers concluded and a historic season met its end as the FSU women's volleyball team's tournament run was cut short by University of Indianapolis in the regional semifinals.
The nationally-11th ranked Bulldogs' season came to an end in the NCAA Division II Midwest Regional Tournament Nov. 19. in Hillsdale. FSU fell to third-seeded UI in three straight sets by scores of 25-22, 25-22 and 25-18 in the regional semifinals. It was the Bulldogs' 16th all-time NCAA Tournament appearance and FSU's first since 2009. With the loss, the Bulldogs concluded the season with a 27-4 overall record.
"Obviously, when you win 27 matches in feels like a pretty good season," FSU head coach Tia Brandel-Wilhelm said. "Probably the most exciting think was to see our players over the last couple of years just building to this point."
For the second straight match, FSU was forced to play without freshman middle hitter Courtney Rehm. The 2011 GLIAC "Freshman of the Year" was unable to participate due to injury.
"Personally, I'll work harder to be the best I can be next season," Rehm said. "The seniors that are leaving this year mean a lot to me, so I want to continue their legacy and represent them in a good way."
The Bulldogs hit only .127 for the match compared to .169 for the Greyhounds. FSU recorded 32 kills and 17 errors on 118 total attempts. Junior outside hitter Aly Brecht paced the Bulldogs with nine kills while junior middle hitter Anne Sutton added eight kills. Junior setter Samantha Fordyce notched 32 assists for FSU.
On the defensive side, senior libero Lisa Tobiczyk recorded a match-high 23 digs for the Bulldogs. She concluded her collegiate career as FSU's all-time leader in career digs.
With nine digs in her final match, senior outside hitter Ashley Huntey wrapped up her Bulldog career as one of only seven players in FSU history to record 1,000 career kills and digs.
"It's really hard to put in words what they [Tobiczyk and Huntey] have meant to the team," Brandel-Wilhelm said. "They're quality people and tremendous leaders. They've definitely put their mark on Bulldog volleyball."
The second-seeded Bulldogs defeated seventh-seeded Saginaw Valley State University to advance to the regional semifinals where they fell to IU. The Greyhounds fell to top-seeded Hillsdale College in the regional title match Nov. 20.
With the 2011 campaign over, FSU will soon begin to look toward next season. The Bulldogs will welcome back two All-GLIAC First Team honorees in Fordyce and Sutton.
"They grew tremendously in their role within the team and their output for the team's success. They grew into some leadership roles too," Brandel-Wilhelm said. "We'll certainly have very high expectations for them coming into a couple weeks from now when we start back into the new season."
While the majority of their teammates begin preparing for next season, the same cannot be said for the seniors whose collegiate careers ended in the regional semifinals. Their days of wearing the crimson and gold have, like the 2011 season, come to an end.
"The success we've had has made my senior year even more memorable," Huntey said. "Besides actually competing in the game atmosphere, what I'll miss most is my teammates. We had great team chemistry. Being together every day, you become a family."