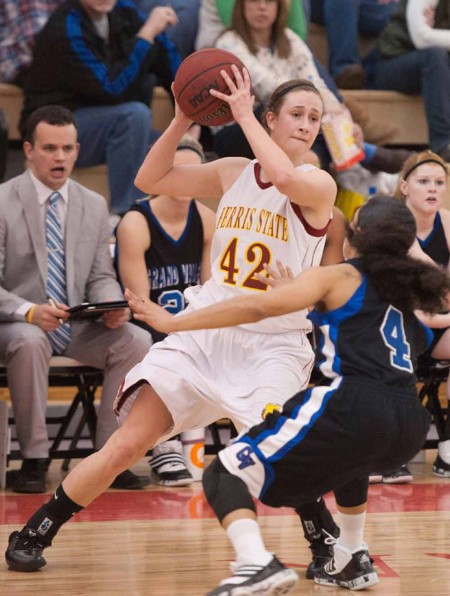 The Ferris State University women's basketball team hit the road for the first time of the 2011-12 campaign as the Bulldogs travelled to South Carolina to compete in the Lady Bearcat Tipoff Classic Nov. 19-20.
In the tournament opener, FSU faced off against the 17th nationally-rank University of South Carolina-Aiken. The Bulldogs led for most of the game until a fast break layup gave the Pacers a 58-57 edge with less than 20 seconds left in the contest.
With just 3.4 seconds remaining in the game, sophomore forward Nikki Arner made a long three-pointer to upset the Pacers and give FSU its first win over a ranked team by a final score of 60-58.
"Obviously we were all very excited to win and to get that first nationally ranked win under our belt," senior guard Tricia Principe said. "It was a great feeling."
Principe led the way for FSU by tallying a game-high 15 points. Sophomore guard Sarah DeShone added 11 points for the Bulldogs.
The following day, FSU faced another ranked opponent. Rather than another upset, Sunday's matchup against 10th nationally-ranked Lander University resulted in the Bulldogs first loss of the regular season.
FSU kept it close throughout the first half as the Bulldogs only trailed 31-23 at the break. However, it was all Bearcats in the second half as LU pulled away to win by a score of 72-51.
"We got that great win the day before, but we knew we were facing a really good team. We didn't play to well," freshman guard Katie Mavis said.
Principe once again led the Bulldogs in scoring with all 12 of her points coming from behind the arc. Freshman forward Chrisitna Branch led FSU on the boards with nine rebounds.
With several nonconference games under their belt, the Bulldogs are now preparing for GLIAC action. Conference play is set to begin Dec. 1 as FSU will travel to Tiffin University.
"This year our team's goal is to win the GLIAC," Principe said. "We have high expectations for this season because this team is different this year than in past years, and we truly believe we can win the GLIAC championship."