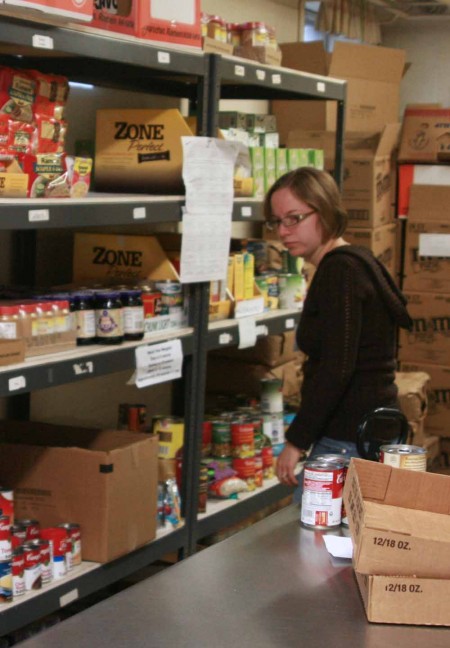 Imagine going to sleep hungry and waking up to an empty food pantry. Now imagine that happening every day. For many, this is a reality.
In order to provide food for families in need, FSU's Student Government Association is teaming up with Project Starburst to collect items.
This will be Student Government's fourth annual Holiday Food Drive. The drive began on Nov. 14 and is continuing until Dec. 5.
Carli Denholm, FSU senior in pre-medicine, is the canned food drive committee chair for Student Government.
"Project Starburst is the group we have helped out the last few years. I have heard the food pantries are low, and there are a lot of people in need during the holidays," Denholm said. "We just want to help the community out."
Not only has the committee placed boxes for food items in each of the residence halls and buildings around campus, they have aslo taken steps to get RSOs more involved this year.
"We feel that RSOs can give a lot, and to get them more involved than in the past, we thought money would be a good incentive," Denholm said. "We have money prizes for first, second, and third places."
Project Starburst is a non-profit organization that collects food and hygiene items to help the less fortunate in the Mecosta and Osceola counties.
Diane Long, the executive director of Project Starburst, said they are anticipating feeding 500 families for the holidays this year.
"We provide food for 400 to 500 families during the holidays depending on the year. Because of the situation with everything, a lot of people are not fully employed yet," Long said. "Some information that I have shows that it takes about 18 months to be reemployed once a person has lost a job and then another three to six months to get back on their feet. So we're assuming that we will be helping people for two years on a monthly basis."
According to Long, Project Starburst has served almost 400 families in November alone. The need for food continues to increase, she added.
"We looked at our numbers for October and we had 3,500 pounds of food donated and that's all gone," Long said. "Our pantry supply flies off of the shelf almost as soon as we get them."
In order to provide food for families as fairly as possible, the volunteers at Project Starburst get to know a little bit about the families coming in. They figure out things such as how many people are in the family, as well as what things they are in need of besides food.
They then give each family recommendations of where to get the things they need if they are unavailable at Project Starburst.
Volunteers at Project Starburst then put together a food basket for families, providing each family the same type of food.
"Project Starburst has been here for 40 years and we don't plan on going anywhere," Long said. "It is my feeling that if they are that much in need then they certainly should not walk away without food. I just hope everyone can be aware and if they have anything extra, please think of us."
Denholm feels this should be a cause many people take interest in.
"It's a really nice way to help out the community and those in need, and for Ferris to give back," Denholm said.